HURT Summer Announcements
We hope you are madly accumulating Trailblazer points by participating in as many Trail Series events as possible!  Now all race participants who complete the five-race minimum for 2023 will be given the opportunity to purchase their very own Trailblazer merchandise such as shirts and hats emblazoned with this logo: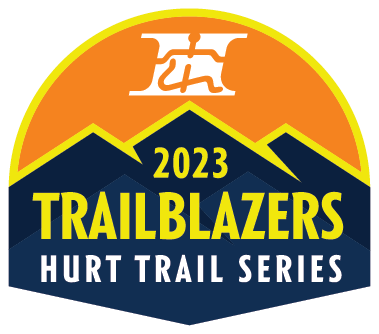 As you know, HURT, Inc. has adjusted to a few changes recently. Losing John Salmonson was difficult for everyone.  However, in honor of John's tenacity and persistence, HURT, Inc. continues to pursue its core mission and goals set by our founders.
To further the progression of our mission, we have expanded the Board of Directors to be better able to provide top-notch trail events, contribute toward the preservation and maintenance of our trails and communities, and to live the aloha by being welcoming and inclusive.  The current Board members are:
PJ Salmonson – Executive Director
Carl Gammon – Executive Director and Vice President
Marian Yasuda – President
Jeff Huff – Treasurer
Jacki Doppelmayer – Secretary
Kelley Hupp – Member
Matt Goda – Member
HURT is so grateful for years of dedicated service by Freddy Halmes and Stan Jensen. Freddy served on the Board of Directors since the establishment of HURT, Inc. in 2020. HURT is very fortunate that Freddy's contributions with race support and trail maintenance will continue. Stan has been a crucial piece of the HURT 100 race directorate since 2008. Stan's contributions will be greatly missed.
The Book of HURT 2024 is now available here: https://hurt100.com/book-of-hurt/  Look for the registration to open on July 25, 2023.  Be mindful that the 50-mile race completion requirement has been reinstated, as has mandatory trail work. Get your qualifying event completed prior to 7/25!