2023 HURT TRAIL SERIES EVENTS
Eight months of trail fun!
The schedule is set for 10 unique races in the forests of Oʻahu.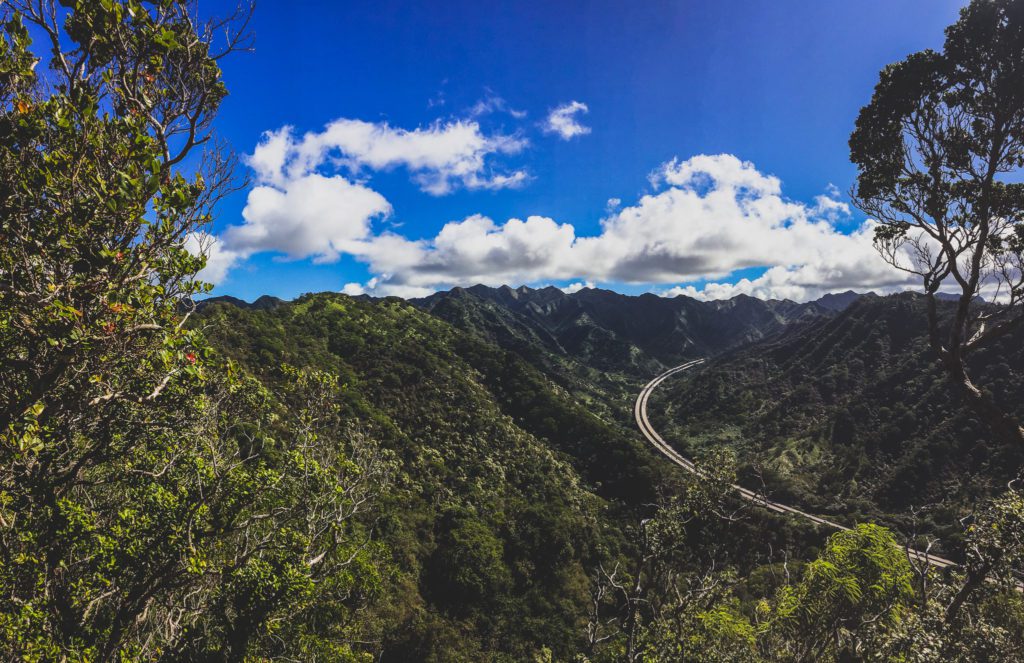 ʻAiea Loop Express
March 18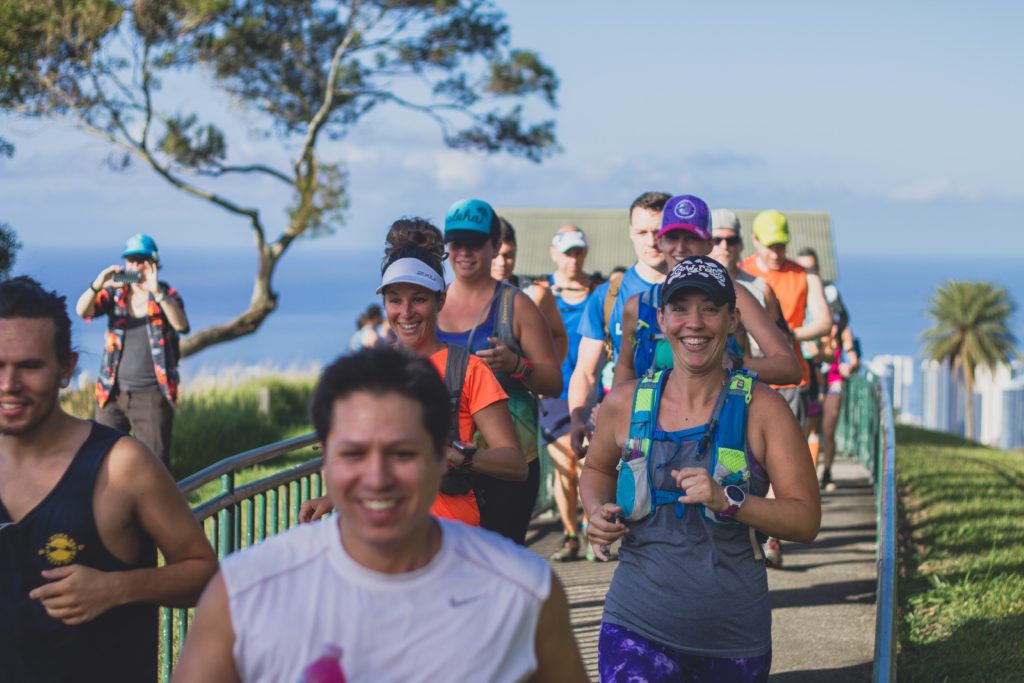 Vi's Top of Tantalus
April 8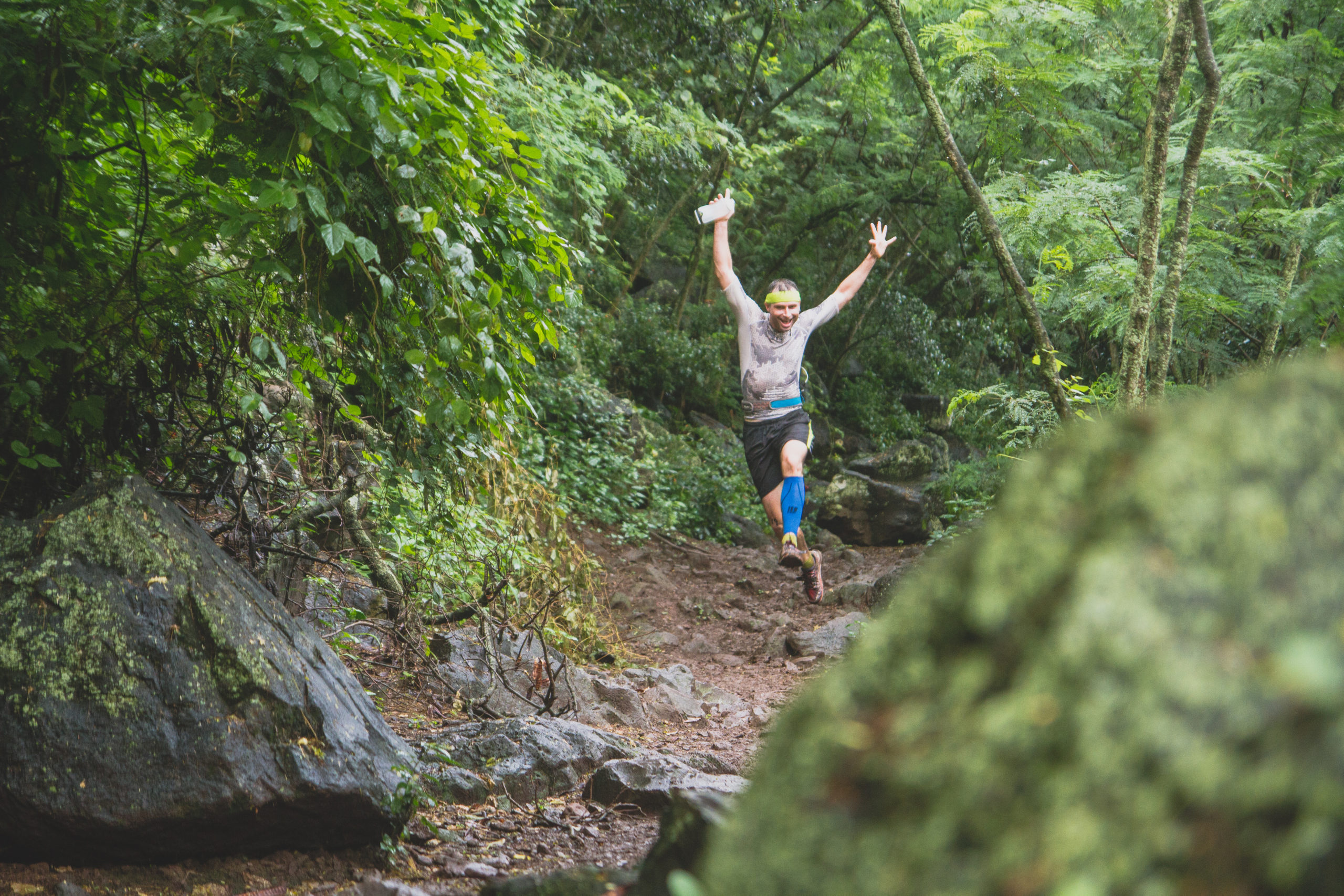 Kealia Quad Crusher
April 29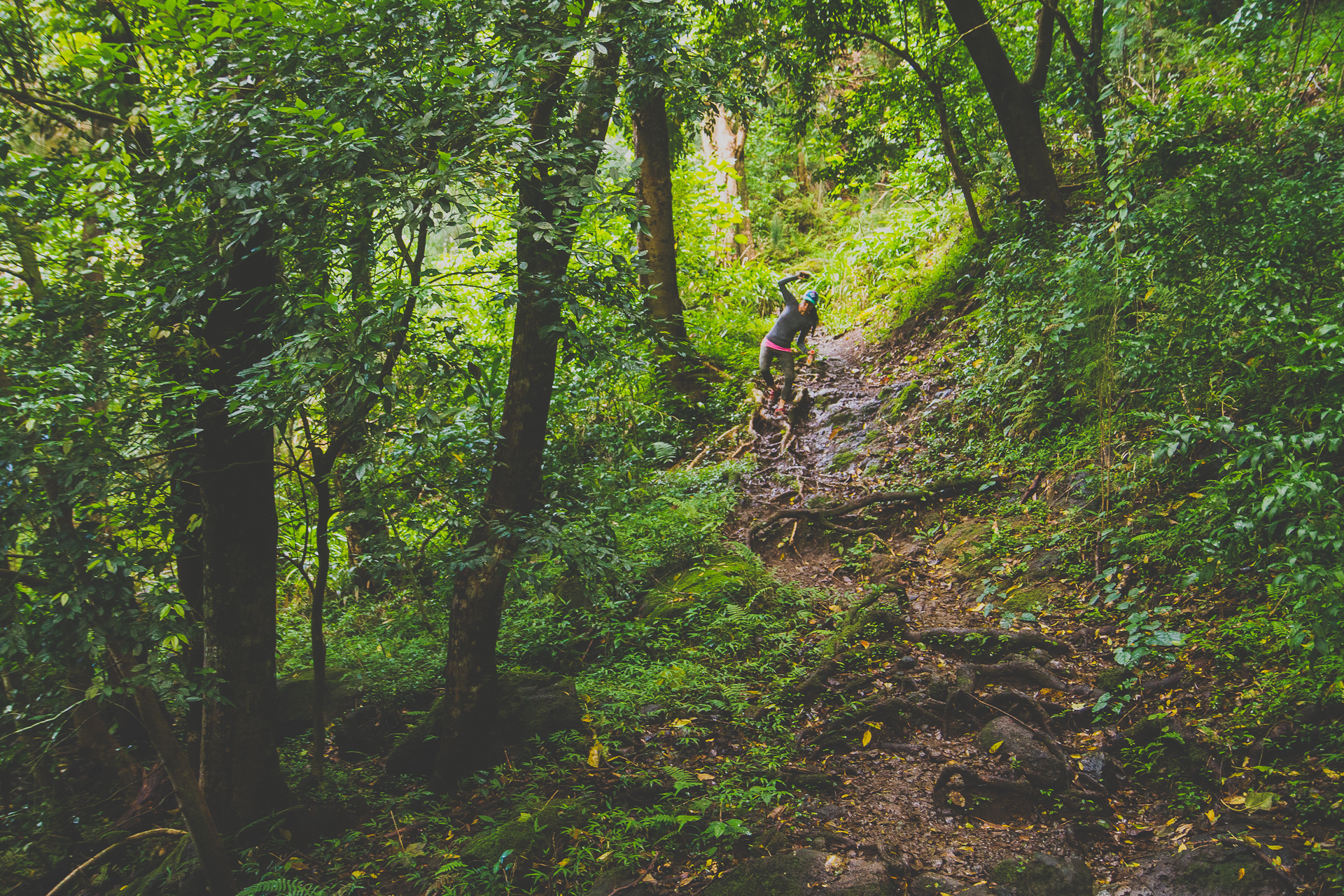 Mango
Madness
May 20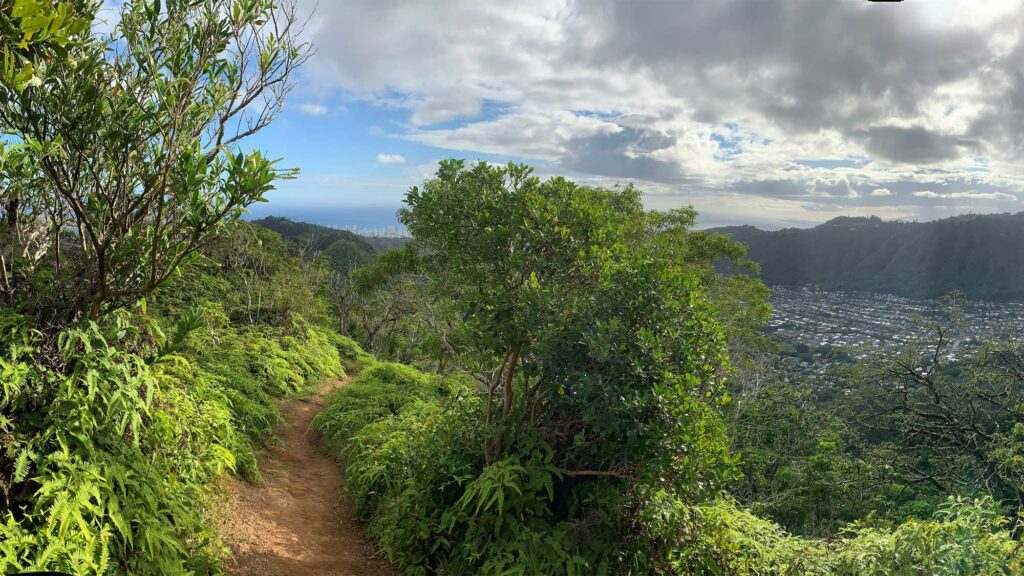 Waʻahila Wanderer
June 10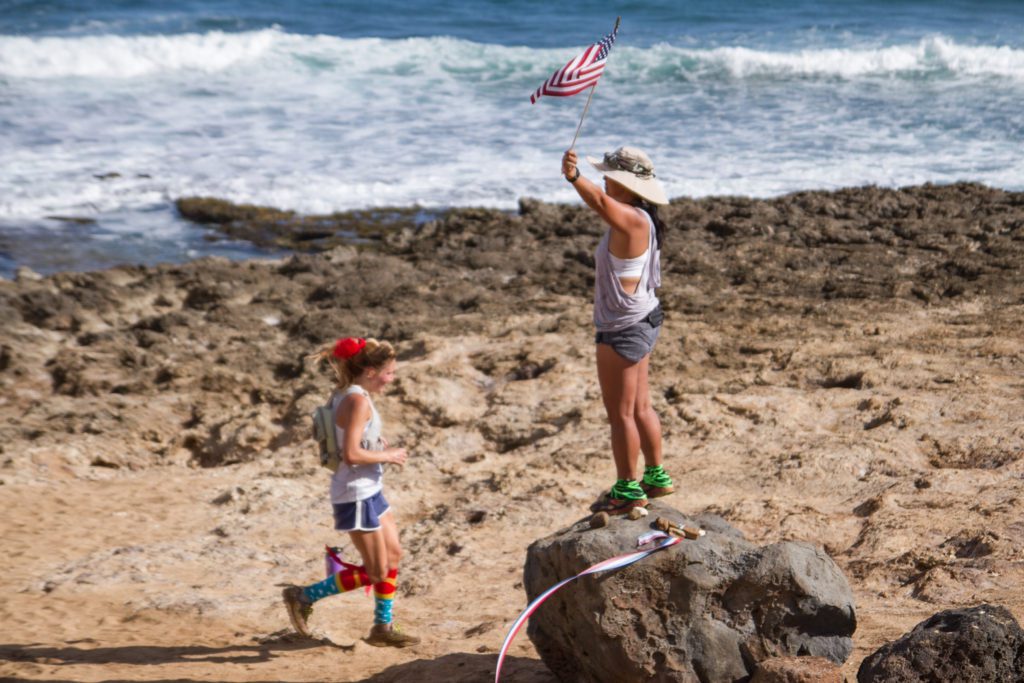 Kaʻena Point Firecracker
July 1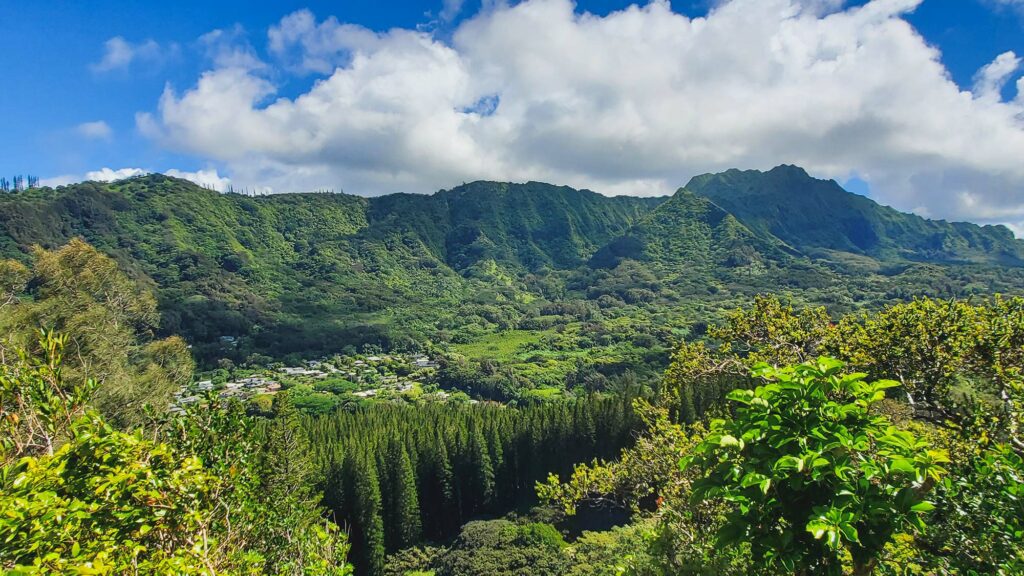 Tantalizing Tantalus
July 22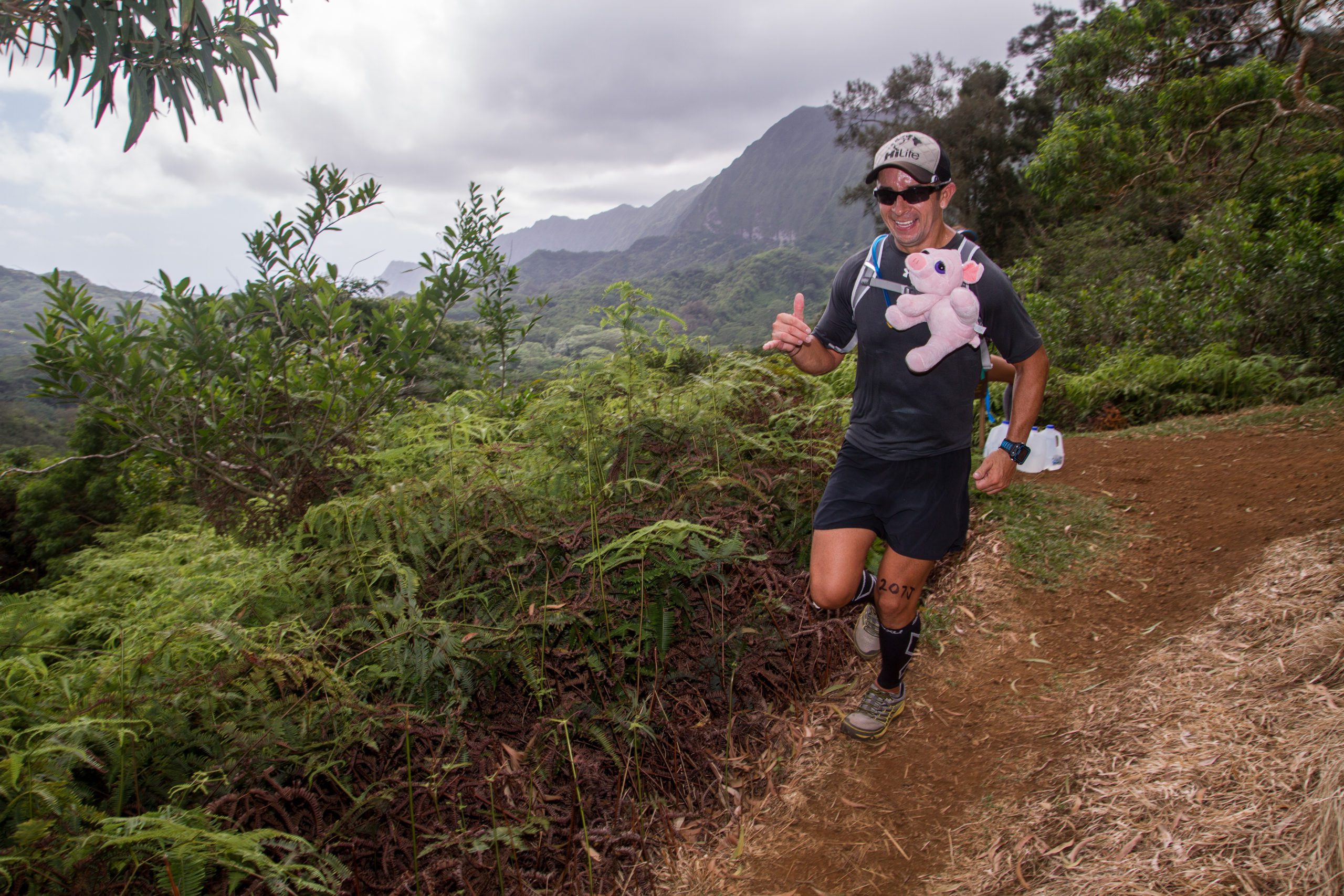 Maunawili Out and Back
August 12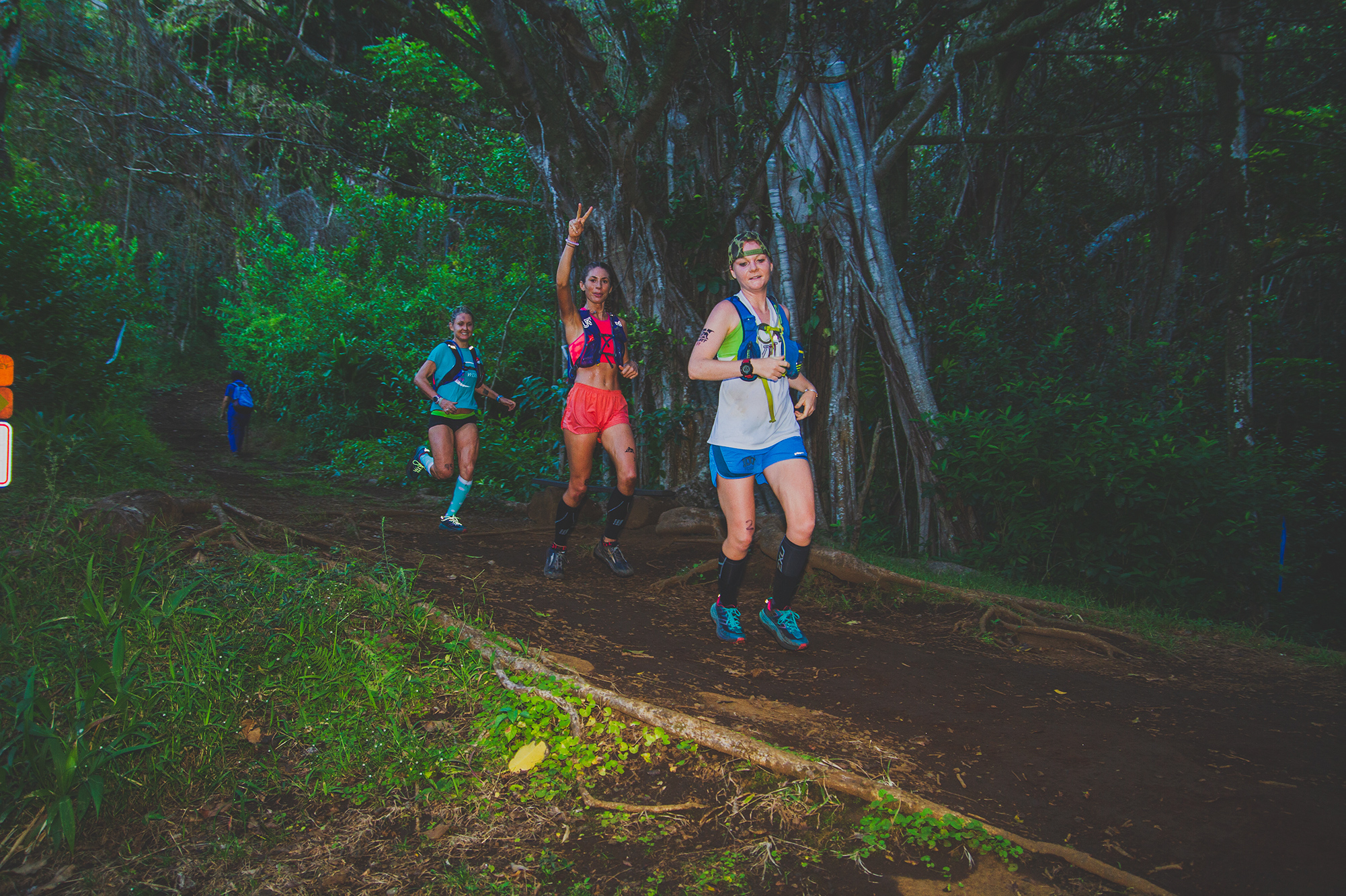 Tantalus Triple Trek
September 2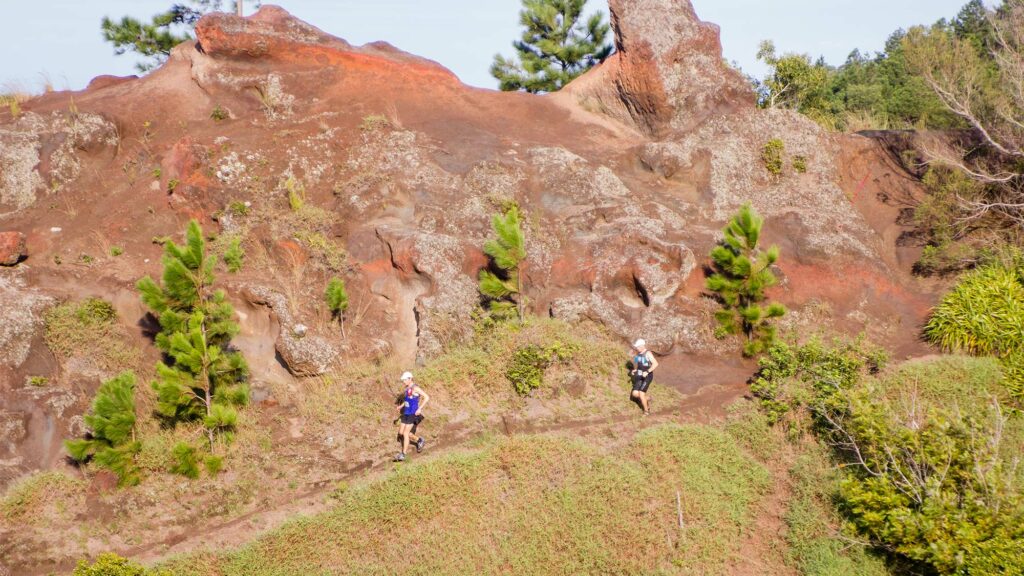 Peacock Challenge
October 14
Important information about the 2023 HURT Trail Series:
There are 10 races in the 2023 HURT Trail Series, each with its own special terrain, challenges, giveaways and fun! All together, you get to know O'ahu's unique landscape.
Trail Series race registrations are handled through hurthawaii.com. In order to register for a race, you will need to create an account.
Registration for each event will begin between three and four weeks prior to the race.
Each race falls on a Saturday.
There is no waitlist for sold-out races.
There is no race day registration.
There is no packet pick-up; bibs are provided at check-in on race morning.
Transfer of registration is not allowed.
There are no refunds.
New for the 2023 HURT Trail Series:
We are proud to announce that all races will be cupless. Help us cut back on trash by bringing your own reuseable cup for finish-line beverages. For longer races with aid stations, you'll need to carry a collapsible cup to use at the aid stations.
"HURT Trailblazer" contest

We're launching our own version of "King of the Hill"!
Finish five or more of the trail series races and you will have the honor of being named a "HURT Trailblazer". You could also become one of ten people to win a great prize. The contest's scoring factors in participation, degree of difficulty, age group and a few other key elements. The contest is designed to be inclusive; it's not just podium runners who take home the prize on this one!
HURT TRAILBLAZER STANDINGS
As of October 16, 2023
| # of races | Qualified? | First name | Last name | Total |
| --- | --- | --- | --- | --- |
| 10 | Yes | Miki | Hyun | 394.5 |
| 9 | Yes | Satomi | Fujimura | 362.0 |
| 9 | Yes | Melanie | Koehl | 359.0 |
| 9 | Yes | Noah | Anderson | 355.5 |
| 9 | Yes | Linda | Okita | 342.5 |
| 9 | Yes | Lydia | Lam | 335.0 |
| 9 | Yes | Ashley | Lucas | 326.5 |
| 9 | Yes | Shane | Williams | 326.5 |
| 9 | Yes | Abigail | Meadows | 324.5 |
| 9 | Yes | Robert | Hori | 315.5 |
| 7 | Yes | Leah | Stickels | 286.5 |
| 7 | Yes | Victor | Garcia | 284.0 |
| 8 | Yes | Eriko | Nakagawa | 281.0 |
| 10 | Yes | Adam | Hughes | 280.0 |
| 7 | Yes | Gary | Holton | 266.0 |
| 8 | Yes | Marnie | Whitlock | 254.0 |
| 9 | Yes | Jun | Fritz | 244.5 |
| 7 | Yes | Jordan | Watson | 244.0 |
| 8 | Yes | Ben | Wunderlich | 242.0 |
| 6 | Yes | Andy | Hignite | 241.0 |
| 7 | Yes | Joshua | Furlough | 239.5 |
| 7 | Yes | Sven | Vahsen | 237.0 |
| 8 | Yes | James | Face | 236.5 |
| 7 | Yes | Anthony | Silva | 236.5 |
| 8 | Yes | James | Stack | 224.5 |
| 9 | Yes | Shane | Peterson | 223.5 |
| 6 | Yes | Takashi | Okada | 221.5 |
| 6 | Yes | Noah | Regnier | 220.5 |
| 5 | Yes | Eric | Wesolowski | 214.0 |
| 6 | Yes | Nathan | Cogswell | 213.0 |
| 7 | Yes | Timothy | Ferber | 210.5 |
| 6 | Yes | Kaitlin | Yeager | 210.0 |
| 5 | Yes | Mark | McKeague | 210.0 |
| 5 | Yes | Takeshi | Yamada | 209.0 |
| 7 | Yes | Janelle | Higa | 208.5 |
| 6 | Yes | Dave | Twelker | 205.5 |
| 7 | Yes | Amanda | Plummer | 202.0 |
| 5 | Yes | Dana | Hester | 199.5 |
| 6 | Yes | Heather | Tyrrell | 198.5 |
| 5 | Yes | Lory | Peroff | 197.5 |
| 5 | Yes | Cole | Raven | 195.5 |
| 6 | Yes | Joshua | Yeager | 191.5 |
| 5 | Yes | Chau | Pham | 191.5 |
| 6 | Yes | Ryan | Cristiano | 190.5 |
| 5 | Yes | Brian | Wyland | 190.5 |
| 5 | Yes | Brendan | Fitzgibbons | 187.0 |
| 5 | Yes | Gabriel | Ortizgarcia | 184.5 |
| 5 | Yes | Aaron | Richards | 182.5 |
| 5 | Yes | Greg | Voelkel | 182.0 |
| 5 | Yes | Kevin | Murphy | 178.5 |
| 5 | Yes | Andrew | Coscia | 177.5 |
| 7 | Yes | James | Lee | 177.0 |
| 6 | Yes | Alexander | Wetterhahn | 174.5 |
| 6 | Yes | Al "Full Send" | Tod | 172.0 |
| 5 | Yes | Tyler | Juza | 168.5 |
| 4 | | Sergio | Florian | 160.0 |
| 6 | Yes | Nicholas | Short | 156.0 |
| 4 | | Irina | Razina | 155.0 |
| 6 | Yes | Pedro | Jimenez | 153.0 |
| 8 | Yes | Dave | Plummer | 151.5 |
| 5 | Yes | Robert | Medina | 144.0 |
| 4 | | Bria | Arauz | 142.5 |
| 3 | | Trevor | Johannsen | 139.5 |
| 4 | | Matt | Witko | 135.5 |
| 3 | | Alex | Gauthier | 133.0 |
| 4 | | Philip | Juza | 130.0 |
| 6 | Yes | Jonathan | Bagley | 128.5 |
| 5 | Yes | Patrick | Kelly | 126.0 |
| 4 | | Christina | Partyka | 126.0 |
| 5 | Yes | Wallace | Mayer | 123.0 |
| 3 | | Ed | Price | 121.5 |
| 4 | | Staci | Burleson | 121.0 |
| 4 | | Tony | Montana | 120.0 |
| 4 | | Jonathan | Shirley | 120.0 |
| 3 | | Jo | Cinter | 117.5 |
| 5 | Yes | Ronnie | Vesperas | 117.0 |
| 4 | | Eric | Kollai | 116.0 |
| 3 | | Michael | Princiotta | 115.5 |
| 3 | | Joshua | Sappington | 115.5 |
| 3 | | Kelly | Sutcliffe | 110.5 |
| 3 | | Valdemar | Vasquez Jr | 106.5 |
| 3 | | Mayumi | Coloma | 106.0 |
| 3 | | Nicholas | Mohr | 104.0 |
| 4 | | Stephanie | Garcia | 102.0 |
| 3 | | Jonathan | Quintanilla | 101.5 |
| 2 | | Benito | Quintana | 101.5 |
| 3 | | Sydney | Budde | 99.5 |
| 3 | | Justin | Bogue | 98.0 |
| 2 | | Annie | Pentaleri | 98.0 |
| 5 | Yes | Tyler | Ashton | 97.0 |
| 5 | Yes | Dennis | Fitzgerald | 96.0 |
| 3 | | Andrew | Heck | 95.5 |
| 3 | | Michael | Holder | 92.5 |
| 3 | | Jason | Christman | 92.0 |
| 3 | | Rebecca | Huska | 92.0 |
| 3 | | Gabe | Stepanic | 91.5 |
| 4 | | Daniel | Lutz | 91.0 |
| 3 | | James | Carleton | 91.0 |
| 3 | | Lorna | Ngo | 87.5 |
| 2 | | Ericka | Yiu | 87.5 |
| 3 | | Rod | Huddleston | 87.0 |
| 3 | | Linnea | Kiyabu | 86.5 |
| 2 | | Andrea | Smith | 86.5 |
| 2 | | Domingo | De Guzman | 86.0 |
| 6 | Yes | Christopher | Rapos | 84.5 |
| 3 | | Simon | Salazar | 84.0 |
| 3 | | Kalei | Whittle | 84.0 |
| 2 | | Teresa | Allman | 84.0 |
| 2 | | Keith | Cutler | 83.5 |
| 3 | | Shawna | Kollai | 82.5 |
| 2 | | Timmy | Glickman | 82.0 |
| 2 | | Brooklynn | Miller | 82.0 |
| 3 | | John | Jacobs | 81.5 |
| 3 | | Tony | Barnhill | 80.5 |
| 2 | | Kirt | Courkamp | 80.5 |
| 3 | | Gary | Schoenhals | 80.0 |
| 2 | | Nicholas | Hamilton | 79.5 |
| 2 | | Andrew | Parker | 78.0 |
| 4 | | Christopher | Mayor | 77.5 |
| 2 | | Jesse | Hakala | 77.5 |
| 2 | | Matt | Goda | 77.0 |
| 2 | | Bethany | Gollin | 77.0 |
| 2 | | Marissa | Kunsch | 77.0 |
| 2 | | Conrad | Newfield | 74.0 |
| 2 | | Cheryl | Laglia | 73.0 |
| 2 | | Rachel | Hopkins | 72.0 |
| 2 | | Michele | Strage | 71.5 |
| 2 | | Pilita | Winchatz | 71.5 |
| 2 | | Keil | Anderson | 70.5 |
| 2 | | Michael | Chin | 70.5 |
| 2 | | Kristina | Eizenhoefer | 70.5 |
| 2 | | Lisa | Tirimacco | 70.5 |
| 2 | | Sophia | Lodigiani | 70.0 |
| 3 | | Kilikakopa | Burner | 69.0 |
| 2 | | Caleb | Maisonville | 68.5 |
| 2 | | Eva | Schemmel | 68.5 |
| 3 | | Ridge | Souza | 68.0 |
| 3 | | Hong Zeng | Yuen-Schat | 67.5 |
| 2 | | Aimee | Jacobs | 67.5 |
| 2 | | Ivan | Colon | 67.0 |
| 2 | | Thomas | Louro | 67.0 |
| 2 | | Whitney | Goodell | 66.5 |
| 2 | | Keith | Daniel | 66.0 |
| 2 | | Benjamin | Angarone | 65.5 |
| 2 | | Ashton | Johnston | 65.5 |
| 2 | | Alyssa | Johnson | 64.0 |
| 2 | | Collin | Kellner | 63.5 |
| 2 | | Carl | Light | 63.5 |
| 2 | | Cy | Acohido | 63.0 |
| 2 | | Nathan | Jacobson | 61.0 |
| 2 | | Reece | Acohido | 60.0 |
| 2 | | Ashley | Goddard | 60.0 |
| 2 | | Jennifer | Hernandez | 57.5 |
| 2 | | Drew | Lichtenstein | 56.0 |
| 2 | | Andrew | McGowan | 56.0 |
| 2 | | Nandor | Szotak | 56.0 |
| 1 | | Chris | Bassett | 56.0 |
| 1 | | Jason | Espero | 56.0 |
| 1 | | Freddy | Halmes | 56.0 |
| 1 | | Brandi | Payne | 56.0 |
| 2 | | Mike | Flartey | 55.5 |
| 1 | | Morgan | Lopes | 55.0 |
| 1 | | Thomas | Johnson | 55.0 |
| 1 | | Justin | Young | 55.0 |
| 2 | | Jaime | DeGuzman | 54.0 |
| 2 | | Nimai | Wong | 54.0 |
| 1 | | Mark | Ravaglia | 53.0 |
| 2 | | Timothy | Schierenbeck | 52.0 |
| 2 | | Johnny | Mendoza | 49.0 |
| 2 | | Matthew | Sorenson | 48.5 |
| 2 | | Julia | Lee | 48.0 |
| 2 | | Iris | Stepanic | 48.0 |
| 2 | | Pete | Boksanski | 47.5 |
| 2 | | Justin | Allen | 47.0 |
| 2 | | Corey | Dennison | 46.5 |
| 1 | | Mary | Edgmon | 45.5 |
| 1 | | Tracy | Garneau | 45.5 |
| 1 | | Randy | Ramos | 45.5 |
| 1 | | Katherine | Short | 45.5 |
| 1 | | Lorenn | Walker | 45.5 |
| 1 | | Nicholas | Bicandi | 45.5 |
| 1 | | Jose | Perez | 45.5 |
| 1 | | Jacob | Shoup | 45.5 |
| 1 | | Josef | Vasquez | 45.5 |
| 1 | | Anthony | Allen | 44.5 |
| 1 | | Katja | Bajema | 44.5 |
| 1 | | Alexandria | Durant | 44.5 |
| 1 | | Wookie | Kim | 44.5 |
| 1 | | Emanuela | Kuhlman | 44.5 |
| 1 | | Dave | MacDowell | 44.5 |
| 1 | | Darek | Becker | 44.5 |
| 1 | | Hunter | Boyett | 44.5 |
| 2 | | Sarah | Johnson | 44.0 |
| 1 | | Kelley | Hupp | 43.5 |
| 1 | | Nils | Melbourne | 43.5 |
| 1 | | Benjamin | Partyka | 43.5 |
| 1 | | Noriko | White | 43.5 |
| 1 | | George | Silva | 43.5 |
| 2 | | Brandon | Woods | 43.0 |
| 1 | | Patrick | Leatherman | 42.5 |
| 1 | | Rose | Neumayer | 42.5 |
| 1 | | Julie | Ng | 42.5 |
| 1 | | Patrick | Conley | 42.5 |
| 1 | | Ilima | Maiava | 42.5 |
| 2 | | Barrett | Johnston | 42.0 |
| 2 | | Arnold | Yago | 42.0 |
| 1 | | Kaiko | Torres De Sa | 42.0 |
| 1 | | Marian | Yasuda | 42.0 |
| 1 | | Neal | Yasuda | 42.0 |
| 1 | | Melissa | Pampulov | 41.5 |
| 1 | | Liza | Rippy | 41.5 |
| 1 | | Michael | La | 41.5 |
| 2 | | Daniel | Richardson | 41.0 |
| 1 | | Claire | Cutler | 41.0 |
| 1 | | Jane | Johannsen | 41.0 |
| 1 | | Jeffrey | Fong | 40.5 |
| 1 | | Clare | Reda | 40.5 |
| 2 | | Olexiy | Dvornikov | 40.0 |
| 2 | | Nathan | Garner | 39.5 |
| 1 | | Carrie | Vivas | 39.0 |
| 1 | | Morgan | Askew | 38.5 |
| 1 | | Jono | Blodgett | 38.5 |
| 1 | | Michael | Cacal | 38.5 |
| 1 | | Keith | Campbell | 38.5 |
| 1 | | Lisa | Cross | 38.5 |
| 1 | | Patrick | DuBoyce | 38.5 |
| 1 | | Xotchil | Flores | 38.5 |
| 1 | | Tanya | Florin | 38.5 |
| 1 | | Jeff | Huff | 38.5 |
| 1 | | Donna Lynn | Ishizu | 38.5 |
| 1 | | Jonathan | Kuhlman | 38.5 |
| 1 | | Jennifer | Latham | 38.5 |
| 1 | | Eirenee | Pospisil | 38.5 |
| 1 | | Kana | Yamamoto | 38.5 |
| 1 | | Brent | Wong | 38.5 |
| 2 | | Dalton | Duarte | 38.0 |
| 1 | | Brandon | Carlson | 38.0 |
| 2 | | Jacob | Atar | 37.5 |
| 2 | | Jonathan | Winchester | 37.5 |
| 1 | | Jimmy | Davis | 37.5 |
| 1 | | Mary | Garvin | 37.5 |
| 1 | | Christian | Knauss | 37.5 |
| 1 | | Angela | Kwong | 37.5 |
| 1 | | Alyssa | Malley | 37.5 |
| 1 | | Karen | Nakagawa | 37.5 |
| 1 | | Rocky | Seeley | 37.5 |
| 1 | | Ryan | Skotnicki | 37.5 |
| 1 | | Kasey | Thomas | 37.5 |
| 1 | | Scott | Yokota | 37.5 |
| 2 | | Richard | Day | 37.0 |
| 1 | | Felicia | Tatulli | 37.0 |
| 1 | | Amanda | Allgood | 36.5 |
| 1 | | John | Forester | 36.5 |
| 1 | | Lili | Lopez | 36.5 |
| 1 | | Christopher | Trump | 36.5 |
| 1 | | Laura | Velazquez | 36.5 |
| 1 | | Anthony | Murata | 36.5 |
| 1 | | Michelle | Aitro | 35.5 |
| 1 | | John | Ariens | 35.5 |
| 1 | | Chris | Barry | 35.5 |
| 1 | | Lucinda | Caldwell | 35.5 |
| 1 | | Elise | Easton | 35.5 |
| 1 | | Lyndsee | Fielding | 35.5 |
| 1 | | Michael (Gramps) | Lang | 35.5 |
| 1 | | Bobbie | Lison | 35.5 |
| 1 | | John | Losito | 35.5 |
| 1 | | Jeff | MacNair | 35.5 |
| 1 | | Judy | Carluccio | 35.0 |
| 1 | | Faron | Cordrey | 35.0 |
| 1 | | Paige | Davidson | 35.0 |
| 1 | | Jacki | Doppelmayer | 35.0 |
| 1 | | Andrew | Hughey | 35.0 |
| 1 | | Michelle | Lino | 35.0 |
| 1 | | DeAnna | Niderost | 35.0 |
| 1 | | Sara | Santilli | 35.0 |
| 1 | | Kahala | Sodaro | 35.0 |
| 1 | | Jacque | Tellei | 35.0 |
| 1 | | Sophia | Westly | 35.0 |
| 1 | | Carey | Colbert | 34.5 |
| 1 | | Rob | Foley | 34.5 |
| 1 | | Eric | Huffman | 34.5 |
| 1 | | Nora | Sleeth | 34.5 |
| 1 | | Antonio | Ventim | 34.5 |
| 1 | | Johnny | Lynham | 34.5 |
| 1 | | Sean | Blue | 34.0 |
| 1 | | Mark | Fischer | 34.0 |
| 1 | | Adriana | Hunter | 34.0 |
| 1 | | Noah | Jacobs | 34.0 |
| 1 | | Jess | Osborne | 34.0 |
| 1 | | Cori | Papapa | 34.0 |
| 1 | | Micah | Wada | 34.0 |
| 1 | | Dannah | Yamamoto | 34.0 |
| 1 | | Ken | Edamura | 34.0 |
| 1 | | David | Eckles | 33.5 |
| 1 | | Seth | Kakowski | 33.5 |
| 1 | | Thomas | Richmond | 33.5 |
| 1 | | Joseph | Radosevich | 33.5 |
| 1 | | Maya | Bowen | 33.0 |
| 1 | | Shaun | Gitlin | 33.0 |
| 1 | | Cameron | Kusiak | 33.0 |
| 1 | | Ellen | Lavoie | 33.0 |
| 1 | | Nathan | Rogers | 33.0 |
| 1 | | Mary Suzohne | West | 33.0 |
| 1 | | Jerome | Adamczyk | 32.5 |
| 1 | | Anthony | Laglia | 32.5 |
| 1 | | Blaine | Nakamura | 32.5 |
| 1 | | Amanda | Russell | 32.5 |
| 1 | | Emily | Sears | 32.5 |
| 1 | | Jasmine | Shackelford | 32.5 |
| 1 | | Zachery | Wells | 32.5 |
| 1 | | Walter | Allman | 32.5 |
| 1 | | Lowi | Llaneza | 32.5 |
| 1 | | Melissa | Bain | 32.0 |
| 1 | | Matthew | Brown | 32.0 |
| 1 | | Thomas | Burton | 32.0 |
| 1 | | Daniel | Carrillo | 32.0 |
| 1 | | Melissa | Marotto | 32.0 |
| 1 | | Michael | Richey | 32.0 |
| 1 | | Gabrielle | Smith | 32.0 |
| 1 | | Patrick | Keyes | 31.5 |
| 1 | | Lucas | Rowe | 31.5 |
| 1 | | Roz | Adonis | 31.0 |
| 1 | | Paige | Banninger | 31.0 |
| 1 | | Dayane | Florian | 31.0 |
| 1 | | Jerome | Lee | 31.0 |
| 1 | | David | Moore | 31.0 |
| 1 | | Vanessa | Secoski | 31.0 |
| 1 | | Kimberly | Uyehara | 31.0 |
| 1 | | Hunter | Vivirito | 31.0 |
| 1 | | Wes | Guthridge | 30.5 |
| 1 | | Stephanie | Jacobson | 30.5 |
| 1 | | Anthony | Johnson | 30.5 |
| 1 | | Joel | Kuhn | 30.5 |
| 1 | | Hideru | Inoue | 30.5 |
| 1 | | Tim | Connelly | 30.0 |
| 1 | | Christina | Hill | 30.0 |
| 1 | | Carl | Johnson | 30.0 |
| 1 | | Emma | Shinsky | 30.0 |
| 1 | | Leigh | Weil | 30.0 |
| 2 | | Micah | Aina | 29.5 |
| 1 | | Daniel | Chow | 29.5 |
| 1 | | Kenny | Klimek | 29.5 |
| 1 | | Thomas | Kuche | 29.5 |
| 1 | | Miranda | Mayor | 29.5 |
| 1 | | Jonathan | Ring | 29.5 |
| 1 | | Patricio | Rosas Hernandez | 29.5 |
| 2 | | Drew | Yamamoto | 29.0 |
| 1 | | Mike | Hess | 29.0 |
| 1 | | Christen | I. | 29.0 |
| 1 | | Jintana | Jichaku | 29.0 |
| 1 | | Brooke | Pagliarini | 29.0 |
| 1 | | Frey | Pankratz | 29.0 |
| 1 | | Adam | Rego | 29.0 |
| 1 | | Thomas | Stewart | 29.0 |
| 1 | | Charles | Ventosa | 28.5 |
| 1 | | Brent | Coffey | 28.0 |
| 1 | | Heather | Flewelling | 28.0 |
| 1 | | Timothy | Mort | 28.0 |
| 1 | | Taylor | Owens | 28.0 |
| 1 | | Joe | Pellerito | 28.0 |
| 1 | | Kelea | Reed | 28.0 |
| 1 | | Daniel | Stefanelli | 28.0 |
| 2 | | Matthew | Townsend | 27.5 |
| 1 | | Tabbatha | Pischke | 27.5 |
| 1 | | Ryan | Somogye | 27.5 |
| 1 | | Justin | Brackett | 27.5 |
| 1 | | Michael | Meyer | 27.5 |
| 1 | | Sean | Aronson | 27.0 |
| 1 | | Ryo | Chimori | 27.0 |
| 1 | | Sean | Cornejo | 27.0 |
| 1 | | Dejuan | Isaac | 27.0 |
| 1 | | Kenneth | Klimek | 27.0 |
| 1 | | Mayra | Puente | 27.0 |
| 1 | | Nathanael | Smith | 27.0 |
| 1 | | Melissa | Solomon | 27.0 |
| 1 | | Natasha | Woodward | 27.0 |
| 1 | | Jay | Acohido | 26.5 |
| 1 | | Owen | Henderson | 26.5 |
| 1 | | Luke | Johnson | 26.5 |
| 1 | | Robert | Krisel | 26.5 |
| 1 | | Patrick | OToole | 26.5 |
| 1 | | Jodee | Morrill | 26.0 |
| 1 | | Brian | Mogote | 26.0 |
| 1 | | Sara | Eckert | 25.5 |
| 1 | | Ross | Pospisil | 25.5 |
| 1 | | Jessica | Mattson | 25.0 |
| 1 | | Jackson | Wilcox | 25.0 |
| 1 | | Phil | Caballero | 24.5 |
| 1 | | Howard | Flint | 24.0 |
| 1 | | Kei | Sonoda | 24.0 |
| 1 | | Kevin | Jorissen | 23.5 |
| 1 | | Derick | Kato | 23.5 |
| 1 | | Anna | Schabell | 23.5 |
| 1 | | Keith | Morikawa | 23.5 |
| 1 | | John | German | 23.0 |
| 1 | | Matthew | Tracy | 23.0 |
| 1 | | Nick | Erker | 22.5 |
| 1 | | Ronaldo | Marcelo | 22.5 |
| 1 | | Dai | Kelly | 22.0 |
| 1 | | Benjamin | Maxfield | 22.0 |
| 1 | | Cana | Monteilh | 22.0 |
| 1 | | Dylan | Yamamoto | 22.0 |
| 1 | | Sarah | Kurisu | 21.5 |
| 1 | | Jacob | Molhoek | 21.5 |
| 1 | | Ryan | Dallosch | 20.5 |
| 1 | | Michael | Garcia | 20.5 |
| 1 | | Blake | Heady | 20.5 |
| 1 | | JR | Lee | 20.5 |
| 1 | | Stephanie | Parks | 20.5 |
| 1 | | Hedolis | Jaquez | 19.5 |
| 1 | | Max | Talsky | 18.5 |
| 1 | | Michael | Roche | 18.0 |
| 1 | | Jeffrey | Hatch | 17.0 |
| 1 | | Nicholas | Ortiz | 16.5 |
| 1 | | Mike | Harris | 16.0 |
| 1 | | Jon | Tornbom | 16.0 |
| 1 | | Peter | Moats | 15.5 |
| 1 | | Wes | Gregory | 15.0 |
| 1 | | Matthew | Borel | 14.5 |
| 1 | | Alexander | Hanson | 13.5 |
| 1 | | Edward | Bain | 13.0 |
| 1 | | Tyler | I. | 13.0 |
| 1 | | Travis | Parker | 13.0 |
| 1 | | Eric | Salassa | 12.5 |
| 1 | | Buddy | Loo | 10.5 |
| 1 | | Jordan | Portell | 10.5 |
| 1 | | David | Garcia | 9.5 |
| 1 | | Tyler | Owens | 9.0 |
| 1 | | Scott | Parks | 8.5 |
| 1 | | Ryan | Manthey | 7.5 |