FINAL IMPORTANT ANNOUNCEMENTS FOR ALL RACERS: 24th Annual H.U.R.T. Trail Series Tantalus Triple Trek Trail Race
 Saturday August 29, 2014 @ 5:30a.m.
Aloha Runners!!! This is the first ultra distance race of this year's H.U.R.T. trail series! TTT is a 30-mile course comprised of three 10-mile loops, with a return to the Nature Center start/finish aid station each loop. Here is the course map: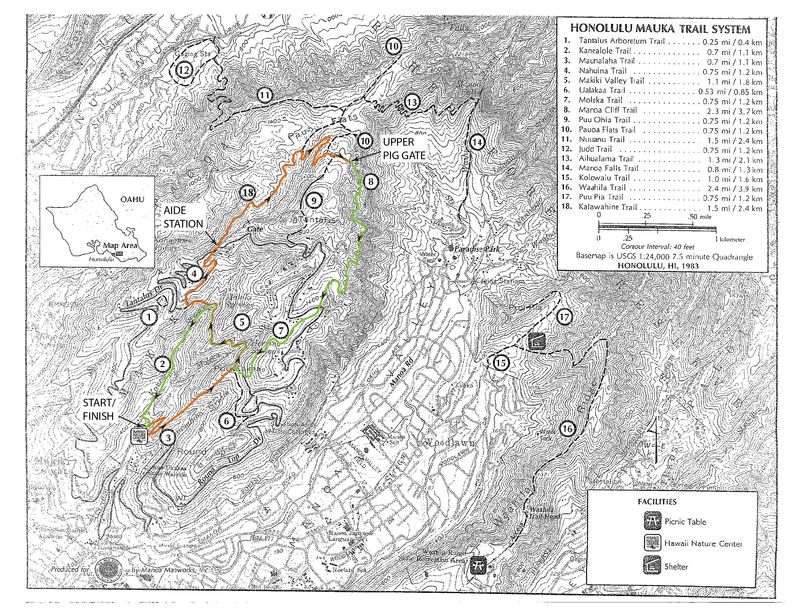 Gates will open for the start area by 4:30am; please arrive no later than the 5:15am check-in cut-off time to sign-in and get your race number.
IMPORTANT: A friendly reminder that the race is 100% sold out and there will be NO same day sign-ups. We thank you for your understanding and cooperation.
PARKING: Suggested parking is along the road on Makiki Heights Drive (starting by the pumping station at the intersection of Makiki Street); please ensure that you are parked well off the road to allow for traffic to use the road as normal. Remember that this can be a high theft /break-in area. NO PARKING IN THE TRAILHEAD PARKING LOT as these spaces are strictly reserved for hikers! Parking is allowed along both sides of the driveway below the parking lot; however all wheels of the vehicle must be off the road.There will be Parking Czars posted to direct you, please comply with their instructions.
We strongly encourage all runners to bring their preferred fuel/hydration requirements for the race! We will have the usual race munchies at the Nature Center start/finish aid station, & water/electrolyte drink at both aid stations. Bathrooms are available only at the Nature Center start/finish aid station. As these serve only one occupant, please try to "take care of business" prior to arriving at the race start.
As always, BE PREPARED FOR ANY WEATHER CONDITIONS as the weather may be very wet, hot, &/or humid.
COURSE ANNOUNCEMENTS/REMINDERS:
It will be dark on the trail for the first hour or so of the race – make sure you bring your preferred trail lighting.

Course markings will be ORANGE going outbound, up to the top/second pig gate and WHITE on the return to Nature Center. As always, BLUE is BAD! If you see blue, don't go in that direction. Bad sections & hazards will be clearly marked with blue ribbons. We'll remind you again on race morning during our quick briefing. Remember that course marshals instructions always override any course markings, so please always follow their instructions.

Course marshals will be at all major junctions for the first loop or two.  Please be sure to take note of all trail markings prior to loop 3 as the course will be more than adequately marked.

Race Course Marshals will be out on the course during the race for your safety and to direct you along the course. You must comply with ALL of their instructions. If you do not comply with their instructions, you will be disqualified from the race, so please kokua. Complaining, whining, or cursing will not be tolerated. Remember our race is FUN, so bring your smile with you race day!
Aid stations will be at the Nature Center start/finish & at the Tantalus Road crossing @ about the 3-mile point. The Tantalus aid station will only stay open until 12:30 pm (7 hours into the race), so plan accordingly. Please carry enough fluids, taking into consider the EXTRA hot/humid weather we have been having.

SMALL

drop bags will be allowed at the Nature Center start/finish aid station, which you will have access to in between each of your loops. We cannot guarantee that the drop bags will stay dry, so please take this into consideration when packing it. Be sure to have some sort of identification on your drop bag as well as remember where you put it as the race volunteers will not be responsible for tracking, watching, or retrieving drop bags. It is the runner's responsibility to retrieve their drop bag when coming through the aid station and at the end of the race. Volunteers will assist in refilling hydration packs/bottles and offering food, water, and electrolyte drink.
Runners must leave the Nature Center for their 3rd loop by the 10:45am cut-off time. Overall cut-off time for the race will be 1:30pm. If you decide to drop, please inform a race director (Jeff or Fish), so we won't spend our evening out looking for you in the woods after the race.

No pacers will be allowed for this race.
* Finisher Awards (designed by our very own Wily Woo!) will be given to the top 3 male & female finishers!
* Finisher swag at the finish line for all race completers!
BIG MAHALOS to all our volunteers, without whom this race would not be possible (so remember to thank them when you see them or pass them out on the course!)!! Big thanks also to Augusto De Castro Photography & Kalani Pascual for providing race photography!
See you all very soon!
Jeff F, Fish, & Julie T