The Race is Done! Long Live the Race!; HURT TRAINING Starts Anew. Plus! Manoa Falls/ Aihualama 'No Cuts Brah!' Sign Installation.
Training Time:  6:00am Saturday  UPDATED: Now on Saturday!
Place:  Top of Manoa Road–Street Parking
What:   Manoa/Jack ass Repeat(s) 12 miles a pop.   + Trail Work (Sign installation) on Aihualama 
So, there it is, after a few days of thrills and hugging and back patting everyone is back to doing what ever they do to keep themselves together.  There will be one further spurt when the stats come out and we can all hug and back-pat and empathize for a few more hours, but then Peacocks is in the bag.  History, and nobody gives a damn what you did last week, dude.  We are all over it, get a life,  or better yet an iphone.  
A fork has been stuck in the bird! Its time to start dealing with the HOG!  Not those cutsy piggys of the Maunawili, but a real HOG.  This is the oficial beginning of HURT training, HURT trails, HURT loops, HURT stashes, HOG Back Climbs,  and hurt body parts.  
This Saturday we will do at least one Manoa to Jack-ass repeat; most of the bad parts of the HURT in just 12 easy miles. Some of us will do the Trail Work originally scheduled for Thursday too.  
So come on out, run a bit of the HURT trail, find meaning in the mud, the roots, and the rocks and let's give back a bit to keep the trails in better shape.  
Well,  not really 'No Cuts Brah!'  but the same thing in formalized state speech.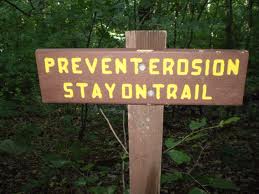 STAY ON THE TRAIL!!
What:  Sign installation at major trail cutting points
When:  6:00 AM Saturday, November 5, 2011 (Could go on Saturday and incorporate Training run)
Where:  Meet at the top of Manoa Road
Details:  I have 4 fence posts to pound in, and the signs to go onto the posts.  We plan to put them in at the bottom of the major cut at Manoa Trail/ Aihualama (Near Chief Ehu Rock)  and then go up farther to put in two more at the first major cut on the Switch Backs.   A future installation will be on the upper section of Aihualama to catch the people on the way down. 
Why:  I  have been running/training the falls trail and Aihualama for some time and have long noticed the increasing number of morons cutting trails and causing severe erosion.  This is more than just a matter of making the trail runnable, it boils down to places where major slides can and will close the trail at least temporarily.  I volunteered to help Na Hele with this. 
Who:   I need two others to help.  It should take 3 hours.  Will be dark when we leave, so bring lights and water. It's always fun to see the night time 'Gee it gets dark fast' crowd stumbling out of Manoa.  We will be carrying in the sign posts and the post pounder.  One person to hold the post, one to pound, and one to attach the signs.  We could probably use a few more to stand around and tell us what we are doing wrong. 
If you can help please contact me, or leave a message in comments section.  
Thanks,  Mikem