2011 Peacock Results (CORRECTED UPDATE)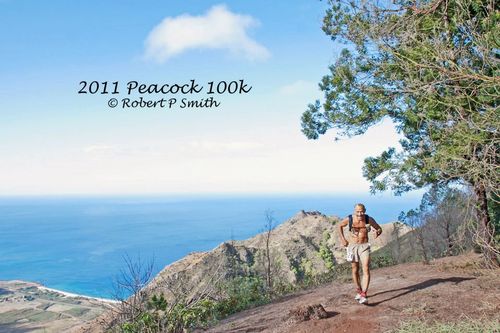 Aloha Athletes,
Sorry for the delay in getting these results posted. What an incredible event. Many people deserve to be thanked for all the hard work put into this race. I'd like to start with Gordon Lau who had the early vision that a race could even be conducted up at Peacock. Certainly Larry Inouye and Don Fallis played a big role in the early beginnings of this race and have continued to stay involved. It was great to see Don at the bottom of Long Road. This year Rob Lahoe stepped up as co-race director and added even more to the organization and development of the race. There are so many others who contributed too. Having an additional aide station run by Freddy and Heather was a real treat and they made it look and stocked it like a mini HURT 100 aide station. 
Over at the base of Long Road, I know Don, Vernon, Leon, Clem and Johnny were all there at certain times and I am sure there were others too.
Back at the Start/Finish, Cheryl, Johnny again, Leona and also probably others I missed were all huge support and help. 
We also want to thank Ray from Runners HI for hosting the pre-race meeting and all of the other contributions he made to this race. I believe Rex helped with water from Menehune Water as well. 
We certainly want to thank all the runners who participated. It is clear that everyone took this race and the difficulty of it seriously and did the homework of training hard before the race. Congratulations to all who finished. 
I am probably forgetting someone, my apologies.
The results are here: 2011 Peacock Results  CORRECTED UPDATE
There are probably some mistakes as I am told the pages were wet and hard to read. You know your time–that is all that matters. 
Watch for more photos to be posted here. Robert Smith has been posting some incredible photos on Facebook and will probably place some here as well. There will be other photos posted from the finish line in the next day or two.
This race concludes the 2011 HURT Trail Series. Watch this site for information on the 2012 HURT Trail Series once the HURT 100 in January is finished. 
As Mike says, this race is done and it is time to focus on the next big event: the HURT 100. 
Aloha, Bob