This trail race has passed.
KEALIA QUAD CRUSHER
June 11, 2022
@
7:00 am
–
11:00 am
The Kealia Quad Crusher is a 10-ish mile run in the hills above Dillingham airfield. The course starts near the Kealia trailhead on Dillingham and goes up to the turn-around where Kealia trail intersect Ku'aokala Access Road. After retracing the route back down to the start, you get the opportunity to grab some refreshment, and repeat the process. While there is only one hill in this race, it's memorable and your quads will love you for it! Note that there is a fairly generous 2.5 hour cut-off for completing the first lap – anyone coming in after this time will be disqualified and not allowed to complete the course.
*PURCHASE ONLY 1 TICKET PER ACCOUNT.
REGISTRATION OPENS MAY 21, AT 12:30AM HST.
DEADLINE TO REGISTER: JUN 8, AT 11:30PM HST.
COURSE DESCRIPTION
The race will be a two lap out & back course. It will start at the Kealia trailhead, climb to the top of Kealia Trail where it intersects with Ku'aokala Access Road. Runners will turn around at this intersection and head back down Kealia Trail, retracing the route they just climbed. Returning to the start/finish line, runners will turn around and repeat the same route again.
The route will be marked with arrows, which will be explained race morning at the pre-race briefing. Course marshals will be on course to point you in the proper direction at critical turns. However, you should ensure you have access to the map either on your phone without coverage or print it out.
DIRECTIONS & PARKING
The main starting/staging area for the race is the Dillingham Airfield. From Farrington Highway, after passing Camp Mokuleia, turn left into the third entrance to Dillingham Airfield (after you pass the airfield). Proceed about 0.4 mile to the parking area on the right.
Parking has been allowed by the Dillingham Airfield's Manager and will be in the grass field adjacent to the start/finish area – look for the parking volunteers. Do NOT park in the paved parking lot on the left as you arrive. As always carpooling is encouraged and appreciated.
RACE DAY CHECK-IN PROCEDURE
This is a Pre-Race Registration Event. No race day entries will be accepted.
No pre-race or post-race gathering will be allowed. HURT is currently recommending that if social distancing is not practical, that you wear a mask when in a crowded setting.
CHECK-IN: will be required at a table set up under a tent by the start/finish between 6:20 – 6:55 am. If you miss the 6:55 am cut-off for registration, you must wait until after the race has started to register and begin your run. Your time will not be adjusted for the delayed start. Upon arrival at check-in, do not gather with others. If gathering with others, please social distance.
For tracking purposes, each participant will be given a bib with assigned numbers. Please display the number prominently on the front of your body for timing purposes.
FACE MASKS: Face masks are highly recommended for all runners at the START/FINISH area.
AID STATIONS
You are REQUIRED to carry at least 20 oz of water on the course for safety. If you are not, the Race Directors will give you some you must carry, which might be a full gallon(!)
There will be no major aid stations on the course – the turn-around will have only minimal/emergency support. Plenty of water and food will be available as you pass through the Start/Finish halfway through race so you will have a chance to fill up then.
Keep in mind that the course will be sunny, hot, and rugged – dehydration is quite possible.
CUTOFFS
If a runner fails to complete the first lap within the 2.5-hour cutoff time, they will be disqualified, and will not be allowed to head back out on the course.
If you have to drop out or choose not to continue on a second lap or at any other point, it is mandatory for you to inform one of the race directors/timers at the Start/Finish. We don't want to have to send a search party after you to find out you are not even there.
OTHER INSTRUCTIONS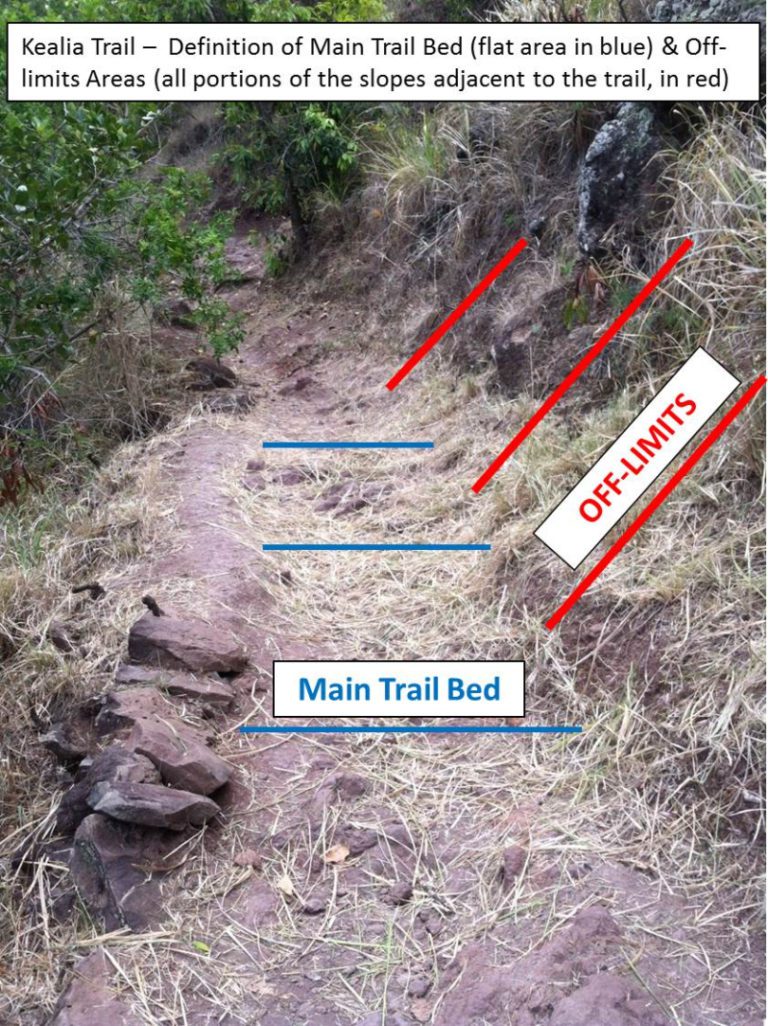 The initial climb to the picnic table is single track and narrow in sections. It is also a sensitive area as it is home to several endangered plants that only grow in this area of the island. It is critical that you stay on the trail as shown in the picture above. This may require slowing down and yielding the way to others coming in the opposite direction so you don't need to step off the trail. Not following these directions can lead to a ban from HURT races and endanger our ability to permit future events.
The trail will be open to the public – please be courteous to all trail users.
All volunteers are recommended to wear face masks.
Hand sanitizer will be available for use at Start/Finish.
Please use the portable toilets near the Start/Finish. DO NOT use the airfield bathrooms.
Contact us if you have any questions.
IMMEDIATE POST RACE
At the end of the race, you will be provided a light snack, bottled water, and a sugar-based drink to take with you.
Please comply with the <15–minute contact guidance. If you are lingering with others, we recommend that you wear a mask.
Please forgive race management as we usher you off the site after completion of your event to maintain the social distancing policies per our permit.
POST RACE – COVID-19 POSITIVE CIRCUMSTANCES
Following the event, if you should test positive for COVID-19, please follow the guidance from the CDC.
Contact us. The State Department of Health provides the following guidance for isolation and quarantine due to a positive test result or being a close contact of someone that tests positive for COVID-19.