Tantalizing Tantalus Mahalo and Photos
Aloha Runners,
We would like to thank you all for your continued support of the HURT Trail Series and more specifically for participating in the redesigned Tantalizing Tantalus Trail Half Marathon event. We were moved by your enthusiasm and your willingness to participate given the ongoing challenges we all face. After all, the event would not happen without your support. We are truly humbled by your belief in this event.
From the race check-in to the Nuuanu aid station to the finish, we witnessed happy faces and excited personalities. Your energy resonated with the two of us and with the volunteers. Your infectious joy became our / their joy. Thank you for being so kind and uplifting to those who helped you with your accomplishment. 
From the looks of it, you all had a great time and came back healthy and happy and for the most part very clean (except for a few). The majority reported a great event, including a well-marked course with very good signage and with course marshals appropriately positioned.
Since this was a new course and being more technical than the 2021 course, there were two new course records established:
New Female Record: Stephanie Raven @ 2:29:00
New Male Record: Nicolas Escobar @ 1:58.35
Overall Record: Nicolas Escobar @ 1:58:35
Here are the Tantalizing Trail Half top three female finishers: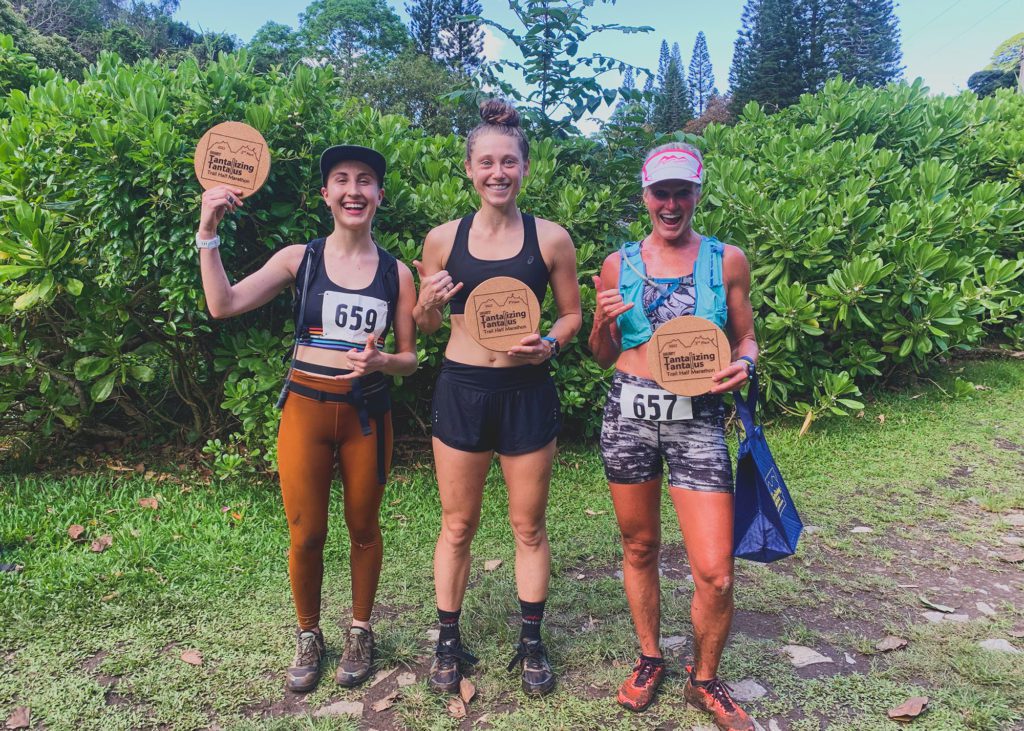 Here are the Tantalizing Trail Half top three male finishers: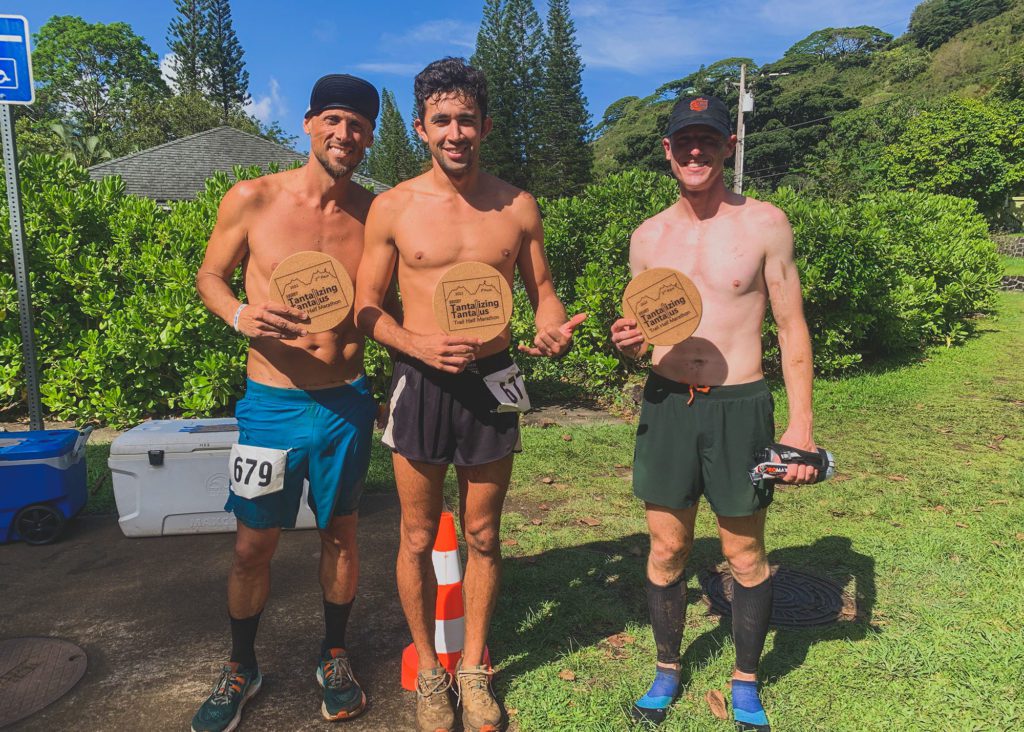 The official results are included in a link below. For those interested, please click on the "Lap Time" as your split times were collected at Nuuanu. For those inclined, you have the capability of printing a "Race Certificate" at the same site for inclusion into your "race running binder" that we all keep.
https://hurthawaii.com/trail-race/tantalizing-tantalus-2022/#runners
Of special note are our oldest finishers in their respective categories:
Female: Linda Okita (65-69)
Male: Keith Campbell (70+)
Incredible work by both as they continue to hammer the HURT Trail Series courses. Perhaps we can make it a bit more difficult for each.
The event sold out at 125 entrants. Of those entrants, 116 came from the US (12 States represented), 7 came from Australia, and 2 from Canada. Incredible for a half marathon. On race day 114 toed the line. At the end, 112 would finish.
The production of our events does not happen without local/national donors who work with HURT, Inc. throughout the year. For this specific event, we would like to acknowledge the following, and we hope as you move forward you can support them as well.
Tantalizing Tantalus Trail Half Marathon Donors:
Donations included gift certificates and Runners HI hats (via a raffle). We were also provided with protein bars and non-alcoholic beer for all participants, as well as our electrolyte drink from Skratch Labs. We humbly thank the above for their commitment to this event. Events of this kind would not happen without their support.
We would like to send a huge Mahalo to those who have stepped up to volunteer for this event so that you could have a special day at Tantalizing Trail Half. We would like to recognize the following who wore many hats throughout the event.
Trail Marking & Clearing Prerace Day: Mark M, Matt G.
Runner Check In: Augusto D, Johnny L, Sandi K.
Nuuanu Aid Station: Kelley H, Les O, Marian Y, Neal Y.
Start/Finish: Arvel S, Frank M, Hiromi Y, Johnny L, Sandi K.
Course Marshals & Sweepers: Amanda T, Andy H, Arvel S, Glen O, Jacki D, Jacque T, Jeff F, Matt G, Mike H, Sue L.
Parking: Mike H.
Photography: Augusto D, Kalani P, Sandi K.
Race Day Timing: Augusto D, Johnny L, Kelley H, Marian Y, Neal Y, Sandi K.
You can find Augusto and Kalani's amazing pictures in the button below:
Thank you all for your support at the Tantalizing Tantalus Trail Half Marathon.
Much Aloha,
Jeff and Kana