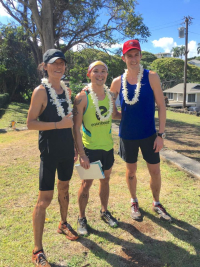 We're happy to say that a good time was had by all at Mango Madness! No major injuries, no one got lost, and there were only a few temper tantrums. 🙂
Congratulations to Tom Steidler who was 1st place male AND King of the Mountain (the first to reach the Tantalus pillbox). Malory Peterson was 2nd place overall, 1st place female, AND Queen of the Mountain. It was a competitive and talented field this year. Kudos to all 104 runners! Click here to view the overall results.
Jacque and I pour our hearts into the creation of the course, the prizes, and everything in between. However, the marking and the race day operations could not happen without our HURT family. They take volunteering seriously and always give 110%. Their smiles and Aloha are infectious. So MAHALO.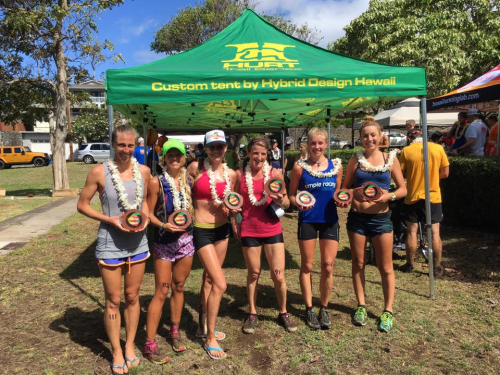 Special thanks to Johnny for the orchid leis. It was a special touch to be able to give them to every finisher. One woman remarked, "I've always wanted a lei!".
Another special thanks to Steve Dewald for donating a beautiful chunk of ohia to make the 20 finisher prizes.
We are also grateful to Kalani Pascual for always capturing the essence of the trail series.
Click here to view Kalani's photo album on Facebook.
Click here to view the photos I took.
We're already plotting and scheming next year's course, so stay tuned! See you at Firecracker!
Aloha,
Melanie (and Jacque)
Race Directors