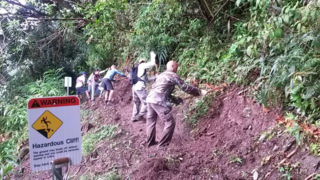 With the high amount of wet & windy weather we've been having, the trails have become both overgrown & blocked by debris. Please lend your kokua as we join up with Oahu Na Ala Hele to help make much needed repairs to the Tantalus trail systems.
We will be meeting at the Na Ala Hele base yard (top of the HNC driveway) to gather equipment then traveling out to areas needing work. Please wear clothes that won't restrict movement yet provide you with adequate protection from any debris. Wear good covered shoes, such as those for trail running or hiking. Na Ala Hele will provide the majority of the tools; however if you have any non-powered tools you wish to bring, please do so. But please be aware that you will be responsible for whatever you bring. Also bring adequate water for at least 5-hrs of work as well as snacks.
Date: December 19, 2015 (Saturday)
Time: 7:30AM
Address:
Na Ala Hele
2135 Makiki Heights Drive
Honolulu, Hawaii 96822
Mahalo
Jeff F.