Run With a View – Race Results & Thank You's!
Aloha Athletes!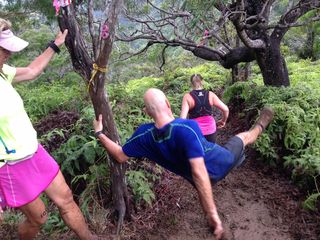 A huge mahalo to all of the runners and volunteers who came out for Run With A View yesterday! The rain clouds started rolling in right at the race start and the brave runners had to contend with an extra slick course this year. The action shot to the right was taken by Augusto during sweeping patrol and has been deemed the official race photo. Luckily, the runner has escaped unscathed and I think this may be his new profile photo – if not it definitely should be!
Race results can be found here:   Download 10 Miler
There were all sorts of surprises to contend with this year – the day before the race we went out to mark the trail and found 3 tall trees chopped down and placed directly on the trail blocking access. Huge thanks to Jeff Fong for bringing his handsaw and clearing them off race morning. Also, I'm not sure how many folks noticed that even the aid station location moved from the time we did the pre-race check in to the time they arrived at the finish due to some issues with the parking spots being needed by the Cultural Center. Luckily all worked out…it's certainly definitely never boring be a race director.  I even gave up my own shoes to one runner who had forgotten hers and she still finished strong! 😉
This race would not have been possible without the army of volunteers, many who serve each and every race of the trail series. H.U.R.T. wouldn't exist without them, they are the life force behind everything that we do. I cannot extend enough thanks to Jeff Fong and John Antonio. John is the reason we were able to provide an aid station at the halfway point and Jeff jumped in everywhere possible – from being a course marshal at a critical turn, to clearing huge trees race morning, to coming early to coordinate the pickup of aid station supplies, as well as connecting us to John – he gets my volunteer of the race award and heartfelt thanks! Also special thanks to Benita and Arvel who volunteered to step in to run the aid station with minimal notice, Shell for being the coffee angel and bringing coffee to all of us way before the sun came up, Scot, Kelly and Augusto for sweeping the entire course from start to finish in the pouring rain, Marian for bringing insanely delicious crack treats and the big tent, Mike Hee for bringing coolers and ice and helping in every capacity, Kimo for being so on top of everything at the aid station and being an expert fruit kebab-maker, John and PJ for all the timing, tracking and check in of the runners, Sara for helping me mark the trail, and so many others who chipped in to make this race a success.
Huge thanks to my co RD Steve who on top of everything else was responsible for the beautiful awards this year. Steve Dewald and Andy Cole were two more angels who helped us clear the mass amounts of overgrowth off the trail in the weeks prior to race day. I apologize if I missed anyone by name but thank you too!
I inherited this race from our beloved Cheryl and this was my first year running with it solo. I know I speak for all of us when I say how much we missed her yesterday but I know she was secretly smiling as the heavens opened and rain poured down on the runners. She never wants it to be easy on us 🙂
Much love to all of you who attended and we'll see you next year. Next up in the series, Mango Madness on June 6th. Don't forget to sign up at: https://ultrasignup.com/register.aspx?did=30805
Melanie and Jacque know how to put on an amazing race so don't miss it!
Also, there are some spots open for leading trail runs for anyone who is interested, just click the icon at the right to sign up. Dates have been filled for some time now, but openings are now up for grabs for anyone who wants to show off their favorite trails.
ANNNNNDDDD, congrats again to all of the Miwok runners and welcome back home!
Rosie