Saturday February 7th @ 6am – Tour de Kailua!
Aloha Athletes,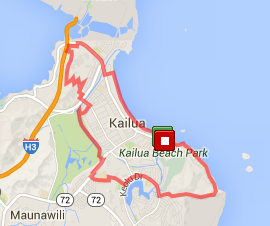 This Saturday, meet at 6:00am at Kailua Beach Park and park in the car park next to the boat sheds opposite Buzz's. We will be running over sand, road and dry, rocky trails so please select appropriate foot wear.  Estimated time on the move for the group will be between 2.5 – 3.5 hrs. Roughly 12.5 – 13 miles, with 1,500 ft climbing. We may be lucky enough to have some 'pop-up' aid-stations – but please carry enough water and nutrition as you personally require. This is a dry, exposed route.
*If you don't want to run on the sand there is an alternative route and re-group point for the rest of the run.
**Not feeling recovered from HURT/ your big Friday night out to run 13 miles?? There are various 'cut-backs' available – or just run the beach bare foot!
Look forward to seeing you all there!
Susie
(ps. I cannot guarantee that no yoga will be involved 😉