Sunday October 5th: Hau'ula Loop Trail @ 8am
Aloha Athletes!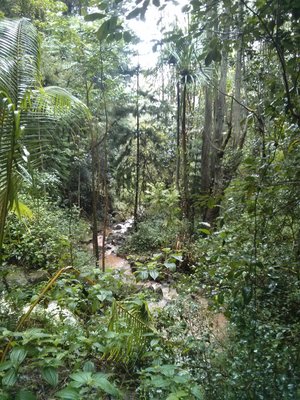 Ready for something different? Tapering and want to do shorter mileage the week before Peacock? Come join me at Hau'ula loop trail on Sunday at 8am for as many loops as you'd like to do. Each loop is 2.5 miles, with scenic views of the forest as well as the ocean and valleys. Much of the trail is through a pine tree forest, each step padding your feet with soft, luscious pine needles. This trail is serene, beautiful, quiet and completely uncrowded. And there's lots of shade. Have I convinced you yet?
So sleep in, bring your dogs or your kids or just yourself, and come enjoy a day on the North shore…shrimp trucks abound for refueling after the run and the ocean is directly across the street for a post race dip.
Directions: From Kamehameha Highway in Hau`ula, turn onto Hau`ula Homestead Road (across from Hau`ula Beach Park). When the road makes a sharp curve to the left, continue straight onto the access road. Park along the road before the cable gate, taking care not to block the gate. Continue on foot past the gate and the hunter/hiker check-in station. Hau`ula Trail begins on the right side of the access road, just past the check-in station. We'll meet at the gate. (map)
Don't leave any valuables in your car, this is a high theft area – but we all know that right?
Rosie