Saturday September 27th @6am: Last big day at Peacock!
Aloha Athletes,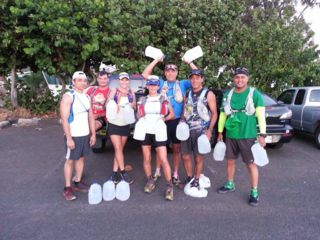 First and foremost, an enormous mahalo to the folks who did the extra credit weight training by carrying up 20 gallons of water to the stash…THANK YOU!! Same deal this week, any runners who frequently use this stash, please kokua (help) in replenishing it by leaving a gallon or two of water behind. 20 gallons is depleted quickly with swarms of thirsty runners in these high temps.
The routes for this Saturday are similar to last with multiple training runs occuring, all beginning at 6am from Dillingham Airfield. The longer route will start off with heading up for another water drop, then continuing on to do loop 1. The route will return to the airfield, reload, then head back up to do Are's loop then come back down to finish. There will likely be a fast paced and a more leisurely paced group doing this same distance. There is also another group doing loop 1 minus long road, then down to Are's and back up if you are looking for less miles 2 weeks out from race day.
IMPORTANT:  If you are entirely new to this course, please be sure to meet up with the group before they leave to find people who are about your pace and have knowledge of the route. Crowds tend to get pretty large on Saturdays this close to race day. It's a good idea to bring maps of the area as well in case you get separated from the group. There will be ample experienced runners out there for those needing direction or have questions. As you all well know, it's gonna be HOT this weekend, so bring plenty of elecrolytes, food and water.
Happy Training,
Rosie