Saturday March 22nd: 7am Pupukea Trail Run
Aloha Athletes,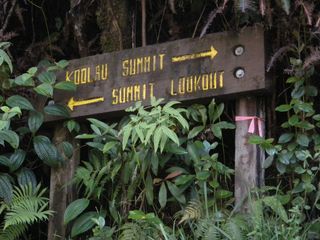 This weekend Steve V. will be leading a run to the Pupukea trail on the North Shore. It's a combination of beautiful solitary paved road and lush trails. Estimated time is probably around 4 hours round trip at a relaxed pace.
About the run: The Pupukea trail starts at the end of Pupukea Road. After you enter the yellow gate near the boyscout camp, just follow the paved road until you reach the Mile 19 marker. Soon afterwards, you will see a trail to the right side of the road. Don't forget to stop at the lookout on your way back. We'll only be going to the 3 ribbon stopping point before heading back. The conditions deteriorate pretty rapidly after that point to pure bushwhacking. If you want to continue, bring long sleeves, thick boots, and glasses to keep from getting poked by strawberry guavas and uluhe ferns. It was very muddy last weekend when we explored the trail, so lace up those shoes tight!
Directions: On Kamehameha Highway, from Haleiwa heading towards Sunset Beach, turn right on Pupukea Road (at Foodland). Continue up the road, past the Pu`u `O Mahuka Heiau, until the road ends at a gate and Camp Pupukea. Park below the Boy Scout camp along the road. Meet at 7am outside the gate.
Rosie