Aiea Loop Express – Race Results & Photos
Aloha Athletes!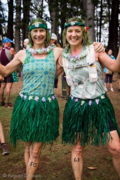 Yesterday kicked off the start of our trail series with the sold out Aiea Loop Express. Starting before dawn, runners began to arrive wearing their finest shades of green to celebrate the St. Patty's day theme. It was a fantastic day full of both sunshine and rain, complete with plenty of mud for everyone to slip and slide in as they ran the course. I personally got a kick out of the fact that just about every runner there had this years HURT 100 shirt on…we must have set some kind of World Record for the most people in a single place wearing the same shirt 😉
A huge mahalo to our race directors Mike and Randy (and kids!). From the decorations to the mustaches to the tattoos, Irish themed treats and shamrock prizes, and copious amounts of mouthwatering food at the race finish, they, with the help of a huge team of volunteers, pulled off everything without a hitch. A highlight of the race was Andy Grandinetti out on course, playing his bagpipes as runners went by! Special thanks to John and PJ for doing an amazing timing job. The runners likely weren't aware but the laptop we normally use broke right before the start of the race, but John and Randy were able to save the day and McGyver a solution to bring you your race results.
Results can be viewed here:   Aiea Loop Express Results 2014
Congrats to Jason Hynd and Candes Gentry for their wins. We had an unusually large number of runners visiting us from outside the islands, from as far away as the East Coast all the way to Spain. The 11 years old speedster Kieran from Connecticut gave the front of the pack a run for their money, finishing 14th overall.
Most importantly, it's important to remember that none of the races in our trail series could possibly happen without all the work completed behind the scenes by the race volunteers. A warm aloha to Cheryl, Andy G, Jeff, Melanie, Augusto, Mike Hee, Steve and Malia Clemmons, Huddy, Rex, Steve D and Steve V, Andy Cole, Jacque, Judy, Marian and Neal, Randy's kids, Brenda, Susie, Juliet, Rosie and everyone else who took part in organizing and cleaning. None of this can happen without you. Trail marking was done by: Randy and kids, Jeff, Melanie, Keith, and Diana. Melanie was also gracious in providing hats of her own design for the top male and female finishers. If you'd like to purchase one of your own, visit her facebook page Lucky We Run Hawaii (website coming soon).
We were lucky to have photographer extraordinaire Augusto DeCastro out on course and at the finish taking photos. He has made all photos available for free to runners for download. If you use them anywhere on the 'net, please make sure to give him credit by placing his link http://www.augustodecastrophotography.com in your post.
Here's the link to the gallery: http://augustodecastro.smugmug.com/invite/9448678085325b997bdde85.52300594
Don't forget to sign up for the next race in the series, Vi's Top of Tantalus on April 12th. As of this posting there are 74 slots still available.
A hui ho,
Rosie