Saturday November 2nd: Waimano Trail
Aloha Athletes,
This Saturday we'll be doing something new! Come join us on the Waimano Trail starting at 6am.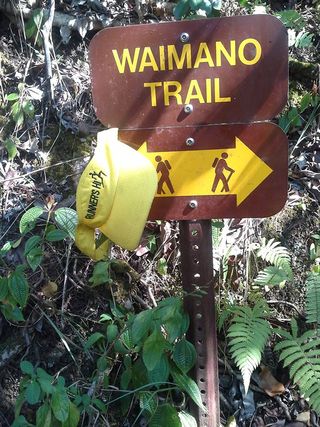 The course was previewed last weekend and the trail is very run-able. Be sure to bring water, snacks and a hand held light for the tunnels at the end. From the parking across the Pearl City Cultural Center.. go up.. you can't miss the trail head and we'll meet there. See full details and directions below. It's looking to be a large group and lots of fun, so don't miss it!
Details:
When: Nov 2nd @ 6am
Distance:  7.2 mi.
Terrain:  Varied. Wet gulches to native forest
Trail Info:  Waimano Trail begins at a chain link fence next to the parking area.
You will quickly come to a fork where lower Waimano Trail splits from
upper Waimano Trail. They form a loop. Lower Waimano Trail continues on
an old jeep road to the floor of the valley and then follows the stream
for a distance up the valley. The trail will then climb back uphill to
join the upper Waimano Trail. The upper trail goes continues from the
split along the road for 0.5 mile. It then turns left and follows a
ditch and tunnels to an intake in the east branch of Waimano Valley. It
then climbs over a ridge and continues along a stream to an old
abandoned dam. The trail then goes slightly to the right, makes several
switchbacks and then continues gradually up to the Ko`olau summit. This
trail offers a wide variety of native and non-native vegetation and
spectacular views of Waimano Valley. From the summit, the ends at a view
of the windward side of O`ahu. 
Directions: From H-1, exit at the Pearl
City/Waimalu exit. Turn right on Moanalua Road at the end of the ramp.
As Moanalua Road ends, turn right on Waimano Home Road. Continue on
Waimano Home road until you reach a guard shack with a parking area on
the left. Park here – the trails begin at the end of the chain link
fence.
Map:  Get directions!
Facebook event page: Check it for up to the minute details.
Thanks for taking us Wily! See ya'll at 6:00am.
Rosie