IMPORTANT NOTICE for PEACOCK ENTRANTS
Gordon has asked me to post the following announcement.
Race Packet pick-up will be at Runner's HI this Friday, October 28,  from 10 AM to Closing (7:00) 
The PreRace Meeting will be at Runners HI on Friday October 28 at 5:30PM
You must have a race number to race, you must pick it up on Friday.  There will be no distributions of packets on Saturday Morning.  If you can not make it to Runner's HI then it is your responsibility to see that somebody picks up your packet and gets it to you by start time Saturday Morning.  Repeat:  NO PACKET PICKUP ON SATURDAY  
The Pre Race meeting is not mandatory, but Gordon would like to see everyone turn out.  If you have not run the course, may Kukukinmamaonui have mercy on you, it would be a very good idea to come to meeting as it is the only time that the route will be discussed in detail.  The trails are well marked, but as a great ultra runner once said 'Stupid is as stupid does.'
Please note that early entry into the airfield may require you to show curent registration, insurance, and vehicle safety inspection papers.  Please check your vehicle to see that this is all current.  
The pre-race meeting should be a geat time.  It will be a chance for all runners to get together and talk story. Get there early and do some shopping.  It is a great opportunity to visit Runner's HI and pick up those last minute items you will need.  Ray Woo has made Runner's HI a center of island running and we can all show our appreciation and support by giving him our business.  See you there!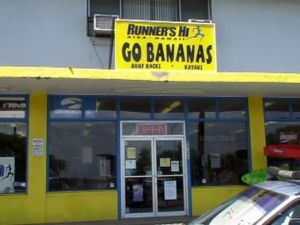 Runner's HI
Address:  98-390 A Kam Hwy  Aiea, HI 96701
Runner's HI  Hawaii address and map