Mauanawili Out and Back Results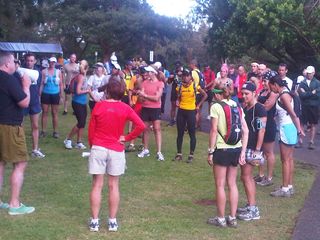 Aloha Athletes,
First a huge Mahalo to Marian and Neal for putting on an awesome race today. Neal's aid station had nice cold water and lots of support. It was fun to hear the cheers running into the aid station and the people there helping were awesome in getting us back out on the trail quickly.
Marian just puts out an incredible spread of food and we even had a few tourists asking if they could buy food. Clearly this post-race banquet is the best!
A special thanks to Harald for being the water savior for many runners out on the trail. He was a complete surprise and welcome relief to many on the return leg.
The results speak for themselves. Matt S. set another record time but since we don't record times for this race, you'll have to ask him just what his time was. Let's just say it was under 3 hours. 
Click here to see the results. I am sure there will be more photos available later.
Aloha, Bob