Kaena Point Firecracker Results and Photos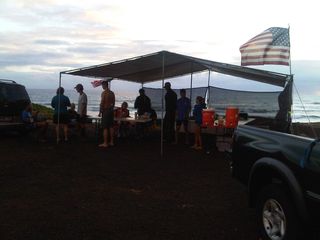 Aloha Athletes,
Thank you for coming out to the Kaena Point Firecracker 10 mile trail race. I am pretty sure yesterday's weather was some of the coolest temperatures that we have ever had out there for our race and the mud may have been a first as well. Based on post-race conversations, it seems most everyone had a great time and the the food was pretty amazing for the post race potluck/picnic. Again, thank you for contributing.
I want to thank Joel (and Steph?) for setting up the aid station over on the Waianae side. They have been big supporters of our runners over the years and having this aid station is a big help for our race.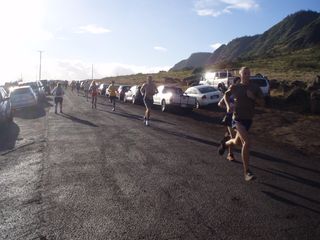 Thanks also goes out to Cheryl who biked out on the course and took the photos you can see here.
Thanks also goes out to John and PJ for making all of these trail races even available to us and for providing the overall results. Results can be seen here. 
Thanks also to my wife Barbi for all the baking and organizing she did for the race.
The next race in the HURT Trail Series is the run with pigs, I mean the Maunawili Out and Back 22 Mile & Relay. This is a very fun race with a unique format. The race starts at the Pali Lookout and is on August 14th. Put it on your calendar.
I hope you are out enjoying the rest of your Holiday weekend.  Aloha, Bob