Miwok and More–Closer to Home (UPDATED)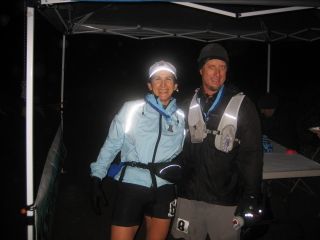 Miwok was a different beast this year. I have always heard about how wonderful this race is. This year the weather was a significant factor as rain, wind, cold, and fog created some serious challenges. Apparently there were a lot of DNF's and some DNS's from people who just didn't show up.
This photo shows Judy and Steve and we all know how Steve does in cold weather. I don't think Ed B. was up there so…
You'll have to ask Steve or get the real story from Cheryl as to what happened. Gil and Nick also ran and I hope Pel has more photos to share. Cheryl spent the day working the race as a volunteer and didn't get any other photos.
Check this site out for the latest updates on John Henderson:
http://www.caringbridge.org/visit/johnhenderson
On another note, many of us know John Henderson as a multi-sport athlete here in Hawaii. On Saturday John was involved in a very bad cycling accident riding up Pineapple Hill out of Haleiwa. He was riding with his girlfriend Laurel when John was hit by a tour van. He suffered some very serious injuries and is at Queens in critical condition. We are all praying for his recovery.
Be safe out there and make each day count.