MAUNAWILI OUT AND BACK
RELAY
RUN WITH THE PIGS
August 13
@
6:30 am
–
2:30 pm
This is the two-person RELAY version of the Maunawili Out-n-Back 22 miler which is a trail run on primarily single-track and jeep road starting near the Ko'olau Golf Course, going to the trailhead in Waimanalo, and returning on the same route. The trail travels in and out of valleys along the Ko'olau mountain range; it is normally very hot, humid, and muddy with rolling hills and frequent stream bed crossings. Aid is provided only at the 11-mile relay-handoff point, so carrying a minimum of 70 ounces of fluids and supplies is mandatory.
If you would like to run the entire length, click below:
*PURCHASE ONLY 1 TICKET PER TEAM.
REGISTRATION OPENS JULY 5, 2022, AT 12:30AM HST.
DEADLINE TO REGISTER: AUGUST 10, 2022, AT 11:30PM HST.
RELAY TEAMS
| | | |
| --- | --- | --- |
| Team Name | Runner 1 | Runner 2 |
| Golden Leaves | Stacia Murray | Hong Zeng Yuen-Schat |
| Scrambled Legs | Bryanna Phillips | Stephanie Raven |
| Nightmare on Maunawili | Arvel Shults | Rod Huddleston |
| Powered by Gordos | Lisa Woolridge | Jonny Briggs |
| The Wet Bandits | Thomas Owen Stewart | Ben Housley |
| Team Sweep | Jeffrey Rockenbrant | Linda Okita |
| Wet Okoles | Dana Hester | Andy Hignite |
START LOCATION, PARKING, AND COURSE MAP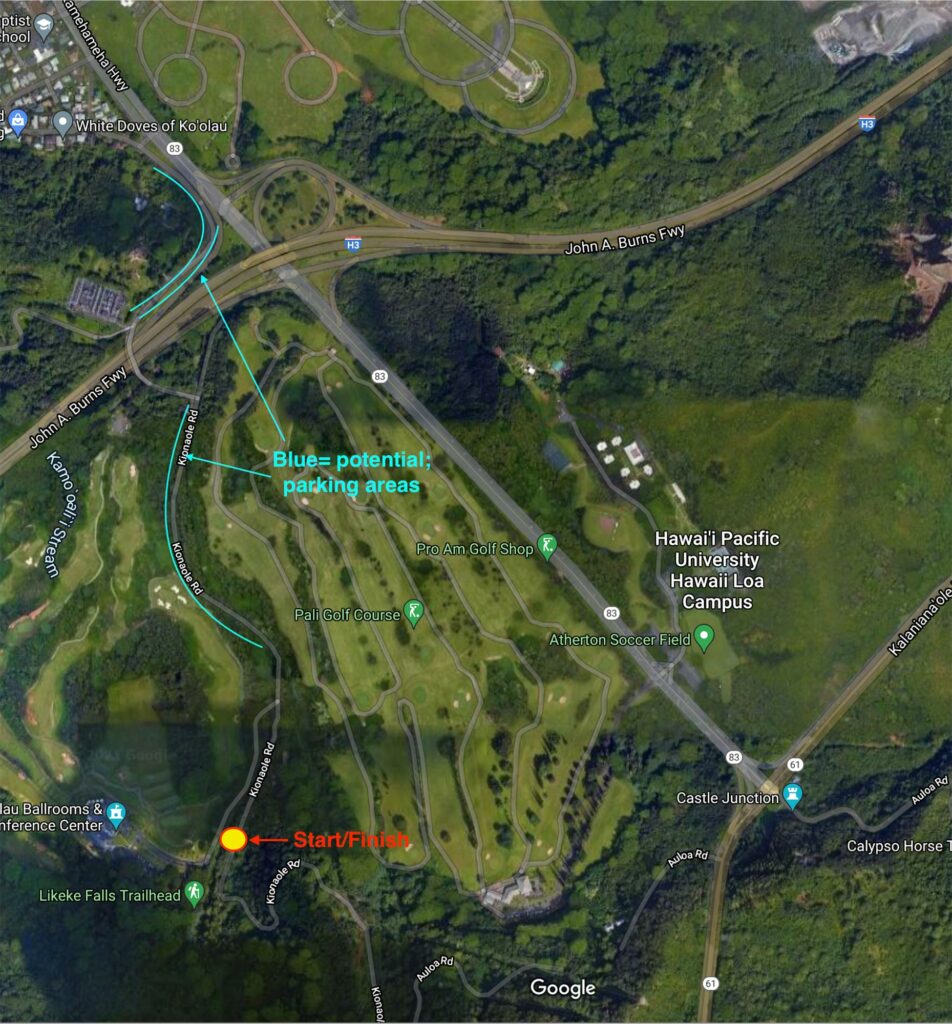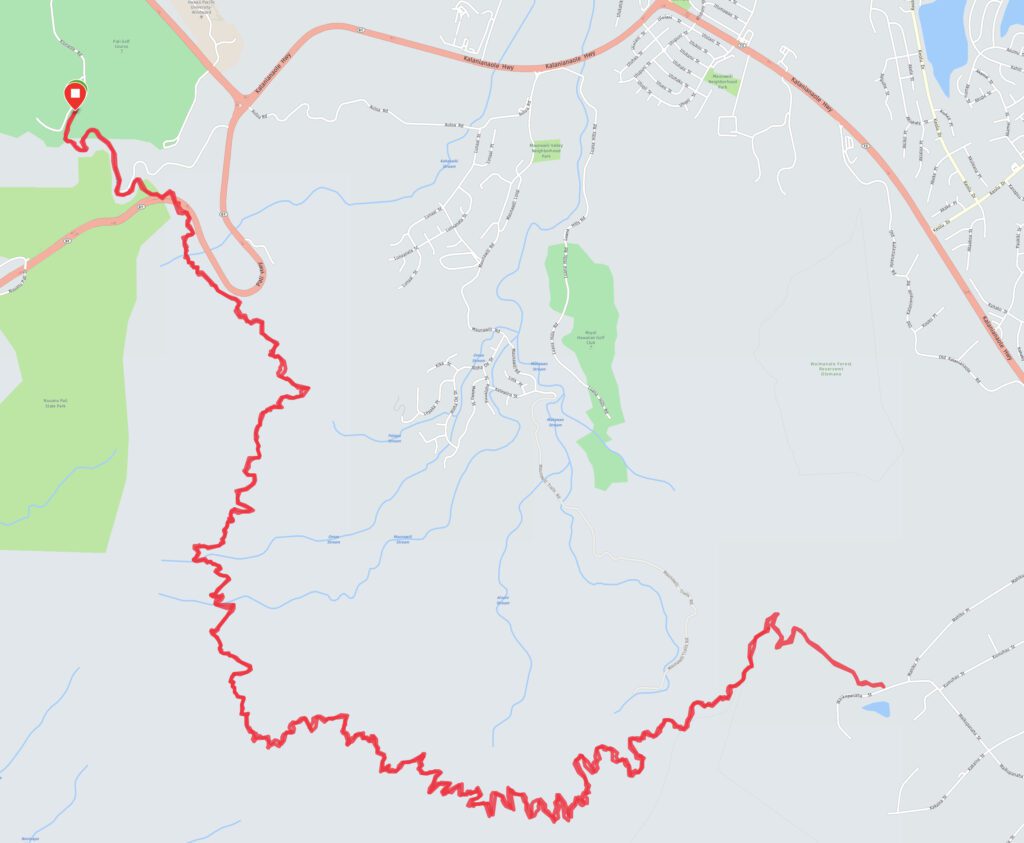 RACE INFORMATION
Start time is at 6:30 am.
This is a Pre-Race Registration Event. Each relay team must register together. The captain is responsible for purchasing a ticket and providing information for both runners. No race day entries will be accepted.
No pre-race or post-race gathering will be allowed. HURT is currently recommending that if social distancing is not practical, you wear a mask when in a crowded setting.
PARKING: Parking is extremely scarce at the start area. You are highly encouraged to carpool or use an alternate form of transportation. All participants must park on the shoulder with all tires COMPLETELY off the roadway. The vehicle operator is solely responsible for consequences that may occur due to illegal parking. Tickets are being issued every weekend.
TRANSPORTATION: Avoid the hassle of driving and trying to legally park on the roadway by using rideshare services to and from the start of the race on August 13.

Lyft: https://ride.lyft.com or download the app

—iOS: https://apps.apple.com/us/app/lyft/id529379082
—Android: https://play.google.com/store/apps/details?id=me.lyft.android&hl=en_US&gl=US

UBER: use https://r.uber.com/rVqAbVp2pdf to claim a voucher for $5 off of your ride in the UBER app

—iOS: https://apps.apple.com/us/app/uber-request-a-ride/id368677368
—Android: https://play.google.com/store/apps/details?id=com.ubercab&hl=en_US&gl=US

AID STATION: There will be one self-service aid station at the turnaround. Entrants are required to ensure their race bib number is recorded at the turn-around aid station.
All runners are required to carry a minimum of 2 Liters (70oz) of water from the start, and from the turnaround aid station.
The trails are open to the public. Please be courteous to other trail users. Runners must always yield to horses.
CHECK-IN:

Check-in on race morning will be required for BOTH members of the relay team. Each relay team member will receive a bib that should be worn on the front and visible to volunteers

.

Check-in is from 6:05 am to 6:20 am. Upon arrival at check-in, do not gather with others. If gathering with others, please social distance.

After the first runner leaves, the teammate can leave.
RELAY HANDOFF: The handoff is made at the turn-around point which is the Maunawili Demonstration Trailhead at Waikupanaha Road. Check-in with the aid station when waiting for your runner to arrive.
CUT-OFF: The first runner of the team must reach the turnaround point no later than 10:00 in order for the second runner to be able to start on the return leg. That is an average of 19 minutes per mile.
Face masks are recommended for all runners in the START & FINISH area.
All volunteers are recommended to wear face masks.
Hand sanitizer will be available for use at Start/Finish and at the aid station.
Portable toilets will NOT be available. Please plan accordingly.
For tracking purposes, each participant will be given a bib with assigned numbers. Please display the number prominently on the front of your body for timing purposes.
Contact us if you have any questions.
IMMEDIATE POST-RACE
At the end of the race, you will be provided lunch, bottled water, and a sugar-based drink to take with you.
Please comply with the <15–minute contact guidance. If you are lingering with others, we recommend that you wear a mask.
Please forgive race management as we usher you off the site after the completion of your event to maintain the social distancing policies per our permit.
POST-RACE – COVID-19 POSITIVE CIRCUMSTANCES
Following the event, if you should test positive for COVID-19, please follow the guidance from the CDC.
Contact us. The State Department of Health provides the following guidance for isolation and quarantine due to a positive test result or being a close contact with someone that tests positive for COVID-19.