Peacock Challenge – Thank You, Results, and Photos
Aloha and Mahalo to everybody who came out to support HURT and the Peacock Challenge race.
We finally cleaned and stored everything from the race (until HURT 100 in January) so I can now sit down and express my gratitude to all of you!
Without your support and encouragement, I think we (HURT) would give up offering this event on our trail series schedule. As many of you know by now, it is impossible to run this race as a one man show.
My biggest thank you, goes to Jeff Huff. He is the one managing our UltraSignup web page, race book and many-many other things that make this race possible.
Marian and Neal Yasuda, aid station captains at Long Road:
Long Road would become a graveyard for lost runners and lost souls, if it was not for the volunteers at LR. Keeping them motivated and heading back up Long Road, on the first and second loop.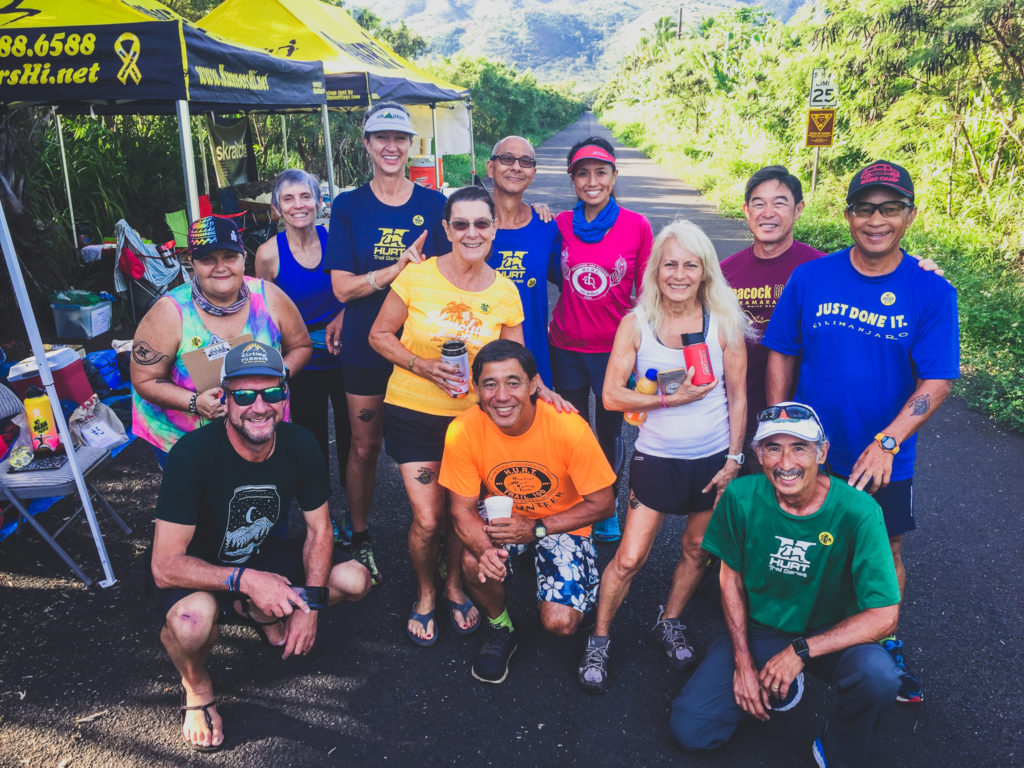 Some of the volunteers at this location were:
Marian Y, Les O, Neal Y, Clem A, Mike H, Jacki D, Jacque T, Jen McV, Will (from NZ), Emily Parigi, Jennifer Little McV, Jeremy D, Kana Y
Thank you All!
Steve Dewald, aid station captain at 3Way:
The volunteer crew at 3Way made sure that everybody was on the correct loop and direction, topping everybody off with nutrition and warm feelings of ALOHA!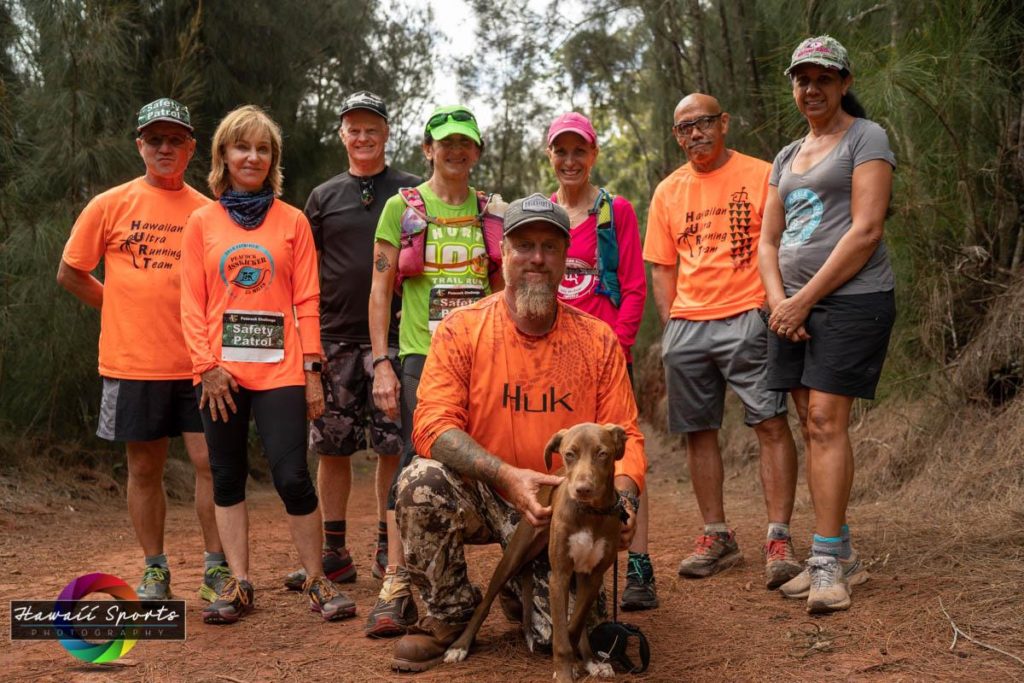 Some of the volunteers at that aid station were:
Steve and Lisa Dewald, Andy G , Heather O , Meg A, Jeff F , Mark McK , Arvel, Gordon L, Dave T, Sue, Jill, Stefy M, Richard D, Rachel P, Andy H, Matt Q, and probably many more!
Thank you All!
Myra Pacubas, aid station captain at Kaena Point Tracking Station:
In and Out!, do I need to say more? They had a lot of fun up there!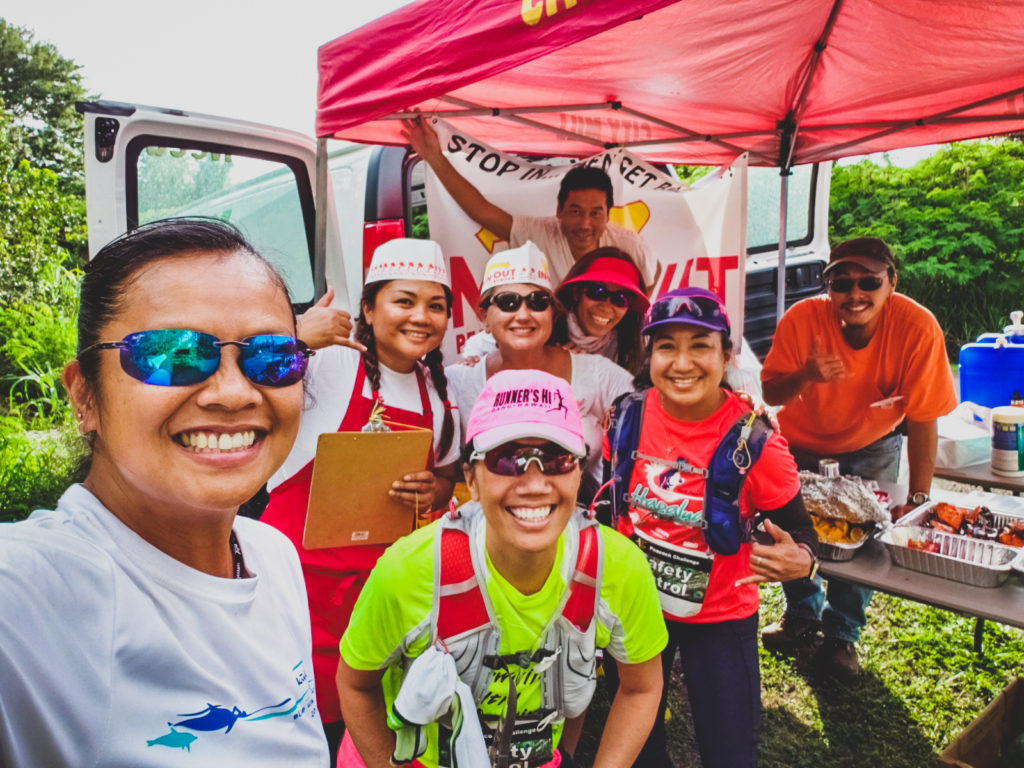 Lauri Y, Linda G, Ruby A, Trevore M, Taeho, DeAnna N and Rob.
Thank you All!
Sweepers and safety Patrol:
Steve V, Rosie, Andy, Sue, Jill, Richard D, Andy H, Rachel P, Gordon L, Matt Q, Judy Carluccio, Rick O, Amanda A, Evelyn and Cyndi, Matt Q, Jacki D and Jacque T.
Thank you for making sure that "most" of the people stayed on the marked trail sections and giving encouragement to every runner!
Start/Finish area:
Jeff and Vanessa Huff, Glen O, Augusto, Heather McC, Wily W, Sara and Jeff, Benita and Daintry, Mike C, Kathleen B, Casey A, Stefy M, Sue and Jill, Jenifer Little, Jeremy D.
YOU ALL MADE THIS A SUCCESS FOR EVERYBODY. If I forgot somebody, I apologize 🙁
Congratulations to all the runners.
The winners for the PC55 were:
– Justin Young in 11:05:04
– Solange Saxby in 11:29:21
The winners for the PC27.5 were:
-Jill Thompson in 4:53:48
-Brent Wakuzawa in 5:27:39
Click here for the full results.
HURT100 Slot Lottery Winners:
Theresa Majeed
Brandon Kimura
Race Photos:
Course and finish photos by
Mikey Brown
Finish photos by
Augusto Decastro
Mahalo,
Freddy.