Hurricane Lane vs Triple Trek Preview Run
UPDATE: WE WILL BE CANCELLING TOMORROW'S TRAINING RUN. THIS IS TO ENSURE EVERYONE'S SAFETY BOTH ON & OFF THE TRAIL.
THE WEATHER SYSTEM HAS SLOWED DOWN & THEY'RE EXPECTING THE HEAVY RAINS & HIGH WINDS TO IMPACT O'AHU THIS AFTERNOON (FRIDAY, 8/24) THROUGH TOMORROW EVENING (SATURDAY, 8/25). MORE RAIN WILL FOLLOW IN THE DAYS AFTER. 
PLEASE STAY SAFE & DON'T TAKE ANY UNNECESSARY RISKS.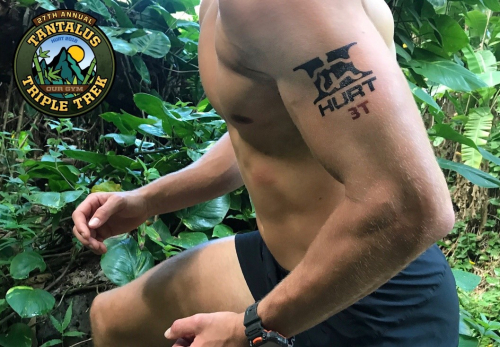 Aloha Everyone,
We hope all are safe and have made the adequate preparations for the approaching hurricane. Please find the following link as a means to stay informed:
https://hawaiitrails.hawaii.gov/trails/#/
http://www.prh.noaa.gov/hnl/pages/HLS.php
Although we're less than two weeks from race day, please do not attempt to go outside for some training if the conditions are bad. We want to see everyone on race morning!  
That being said & barring the weather, please join us this Saturday, August 25th, for a loop or two (or more ?) of the 2018 Tantalus Triple Trek course. We will be meeting at the picnic area by the Maunalaha & Kanealole trailhead (just behind the Hawaii Nature Center) by 6am. We will depart shortly thereafter. We will be going in the clockwise direction (up Kanealole/Center trail aka Pipe) for both loops. Below is a map of the course. Be sure to bring enough water and nutrition for the distance that you plan to do (at least 24 oz per a loop). Hope to see you all there.
We will post in the comments below as well as on social media (Facebook, Instagram) the day prior (Friday, 8/24) whether the training session will be held (or canceled). Should the storm hit prior and we cancel the training, please be Akamai in knowing we are doing this with your safety in mind. Oahu Na Ala Hele and the trail advisory council are predicting major impacts to all trail systems should it remain on its predicted track, i.e., fallen trees and branches, landslides, flooding.
The Triple Trek store is open for all to purchase race swag online. ** This just in: grey trucker caps have been added to the store!!**  Here is the link store site:
https://teamlocker.squadlocker.com/#/lockers/hurt-triple-trek-2018
Production time is two weeks (from the time of your order) with 4-6 days for delivery. Please use the code "TRIPLETREK10" for a 10% discount.
NOTE: For the last two races of the HURT trail series we'll be using Skratch as our electrolyte drink. In addition, we will be featuring Tailwind nutrition. Much Mahalos to Ray Woo (Runner's HI) for the big assist in getting these great products for use in our events!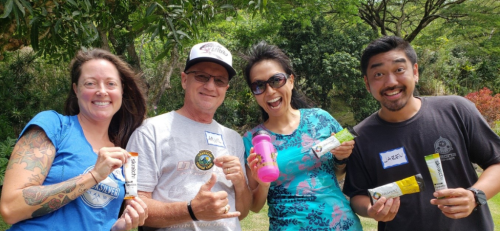 Last and certainly not the least….. Congratulations to all who have been bestowed the privilege & honor of being selected to run the 2019 HURT 100-mile trail run! Best wishes on successful training and hope to see all in January!!
Please be safe over the next several days and hope to see you all very soon!
Aloha,
Sandi & Jeff
3T RDs