Preview Run – Vi's Top of Tantalus, 4/7/18, 8AM, Saturday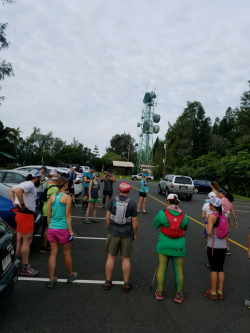 Aloha Athletes,
Good turnout this past Sunday! Come join us for another preview run for the upcoming Vi's Top of Tantalus 7 miler on Saturday, April 7th, at 8AM (yes, you can sleep in a bit) lead by Drew. Drew is visiting and would love to see many of our HURT Ohana. 
Race day is April 14th. The race is sold out and there is no waitlist, but feel free to run the preview or volunteer race day!
The run will start and finish at the Puu Ualakaa Park, about 2 miles up Tantalus at 3200 Roundtop Drive, Honolulu, HI 96822.  The race is conducted in the memory of our dear HURT friend, Vi Medusky-Jones who passed away from ALS.
Start Time for the Preview is 8 AM Saturday at the main parking lot.
Distance 7 miles.
Please carry at least 20 ounces of water.  If you are not familiar with Tantalus trails, please print out the course map and carry it with you.
See you soon!
Judy, RD