Need old pics for exciting new HURT legacy documentary!!!
Aloha HURT ohana,
SHORT VERSION: email me for link to google drive to submit old pics of HURT ohana for rad new documentary in the works about the history of HURT! (matt.stevens.417@gmail.com) This is the link to see what pics have been gathered so far, but I'll send you a link if you have pics to upload. The older the pics, the better, in general, especially pics that are candid and catch the raw emotion of HURT.
Mahalo, Matt
https://drive.google.com/drive/folders/0B3qFs2Tih5YEb0x0TUozQjctbEk?usp=sharing
Long version: This is Matt Stevens writing from Oregon. If you've never heard of me, I'm the guy who used to race Out and Back in women's Montrails, a fact which Cheryl Loomis will never let me forget…that's enough personal info. for the time being.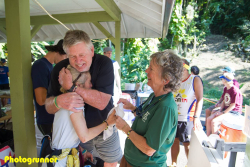 So with Big John's blessing, I will be coming out to the HURT 100 this year with a new friend and filmmaker named Steven Mortinson. Steven is originally from southern OR, an ultra runner and an amazing filmmaker. (http://www.stevenmortinson.com/) I first met him this July up at Mount Hood when he was on day 7 of 8 filming HURT 100 veteran Yassine Diboun and 2 other PNW runners attempt the FKT on the Oregon section of the PCT. Steven's a great guy and I know you guys at HURT this year will enjoy getting to know him. I had seen his one minute "Get After It" edit for the Wy'East Wolfpack and thought "dang, this guy's got skills." As a drone photographer, his final few sequences with the drone shot on the ridge above the Columbia River blew me away. Nate Lewis and I met up with the crew and had fun doing some filming, droning and just generally being groupies in the FKT attempt.
A month ago, he premiered the full film of "One Step at A Time" (click for trailer here) in Portland to much excitement in the running community hear. It is currently making the rounds across the country in a Trail Running Film Festival. I know, how cool is it that such a film festival is now a thing! (http://www.trailfilmfest.com/) Once I saw the full film "One Step at a Time," I couldn't get two thoughts out of my mind: 1. the story of the HURT ohana over the last 35ish years and how the HURT 100 came from this and developed into it's current state is an amazing story that needs to be told, and 2. Steven has the skill set and passion for running to tell this story the right way and do it justice. Since then, I've been selling this idea to Steven, John and PJ, and others the same way Big John infamously sold me on doing the HURT 100 and then getting me to actually finish, even if turned out to be a five year project! Hopefully this project doesn't take that long.
So with all this in mind and a keen awareness to the special culture of HURT and trying to keep it "free of a$$holes" (Big John's words! (: ) Steven and I are going to be filming in January and trying to tell the story as authentically as we can. We want to use every tool we can, including old pics, videos and rad drone shots to make a film that honors all who have given selflessly to the community to make HURT what it is. Jimmy Wilkinson, my close friend and owner of www.opticalhi.com will be sharing his expertise to capture needed aerial footage and sharing the amazing footage he's already gotten in HI over the past 2 years. (check out his 3 min edit of he and I up on Pu'u Mana Mana to get a taste of his work) With John's support, we are committing to producing a short promo/trailer video to be shown at the HURT dinner in January. We will then be launching a pledge drive online, asking anyone who is interested in having this story told how much they would be willing to pledge to make it happen. If we can reach a still to be determined mark in pledges, we will then ask people to actually give. And if we actually collect the needed funds, we will actually make the film that deserves to be told in as compelling as way possible. Actually! (:
My passion for doing this is simple: I want to honor the people (read: you guys) who have made this community and race what it is, especially John and PJ. Through all of the physical ups and downs, I am humbled that John and PJ do this year in and year out to foster the kind of life transforming community and event that has touched so many hundreds of people. Their (and mine!) prime running days may be in their past, but they keep giving and giving and giving. I find this amazing and inspiring and want to thank them for how HURT changed me and made my wife and kids part of the ohana. We know that many other great films have been made about the HURT 100, but we want to get more at the history with this project.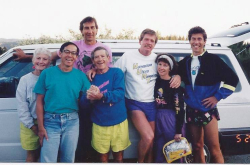 And though my part is small of the story, it is significant for me. Richard Senelly and PJ spent hundreds/thousands of hours investing in us Pac Five knucklehead kids. They taught me love the trails and adventure and friends. Big John and PJ came to our track meets and John still BS's about the time I lost to Valencia. At age 22, I had run 2:46 at HNL marathon and thought I was tough enough to win HURT and run sub 24. I know, don't laugh…I was naive enough to believe it. I crashed and burned like most HURT virgins and dropped at 72, vowing never to return. But John convinced me to return, and and five years later I found myself at mile 80 at 8 am feeling optimistic about actually finishing. And then the wheels came off, I got sick, discouraged, my heel was coming unglued and Jeff Huff, who was feeling fine in his race, slowed WAY the crap down and basically held my hand for 15 long painful miles that were filled with plenty of swearing and whining, and got me to the finish. So by age 29, the HURT ohana had taught me that it is ok to dream big about winning and crap like that, but learning that you have genuine friends that will tolerate you at your worst to help you finish is infinitely more amazing and is pretty useful for making it through the harder parts of life that we will all face.
So that's it. Props to anyone who got this far, and I hope you guys can find a little time to dig up some old pics and video because they are crucial to telling the story. Please email me directly, and I will send you link giving you access to upload pics. We are hoping to get the story arc in place before getting to HI, so any pics you can upload sooner than later would be much appreciated.
Mahalo HURT ohana,
Matt
matt.stevens.417@gmail.com