Two Hurricanes Versus Triple Trek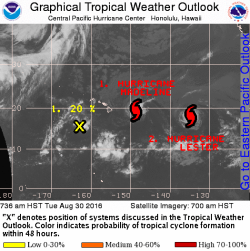 With two storms possibly impacting our state this week (& the weekend), we want to assure you that we are tracking their development. Though the mottos of "We wouldn't want it easy" & "A little mud never HURT" come to mind, we are looking at everyone's safety first and foremost.
The current tracks have Hurricane Madeleine passing south, impacting Hawaii Island sometime Wednesday with the rest of the island chain feeling any residual Thursday. Hurricane Lester is predicted to impact the Islands during the weekend though it is not known to what degree. As we get further information and consult with Na Ala Hele, we will inform all what is happening. We will make the final call on Friday morning to whether the race will be postponed. We do realize that some have travelled overseas to do this event however we want to emphasize that the safety of everyone comes first. Thank you for your understanding and support.
Mahalo and have a great day.
Your Triple Trek RDs
Jeff, Sandi, & Loren
Click on the following links for up-to-date information:
Central Pacific Hurricane Center (NOAA)
Trail Announcements and Closures (Na Ala Hele)