Maunawili to Waimanalo and Back a.k.a. – Run With the Pigs – Final Instructions
Maunawili to Waimanalo and Back
a.k.a. – Run With the Pigs
Saturday, August 8, 2015
The run will start at 7:00 from the Nuuanu Pali Lookout.  Plan to arrive by 6:15 to get your bib numbers and check in.  All runners (including both members of a relay team) must check in at the lookout.
Parking at the lookout is limited.  We cannot use the parking lot for runner's vehicles.  You must park on the roadway leading to the lookout.  The parking tsar will direct you at the main gate when approaching from Honolulu-side.  Please comply and do not leave your car in the parking lot.  This is one of the requirements for the permit to use the State park. The area is subject to break-ins and thefts.  Leave nothing of any value in your vehicle!
There are NO bathrooms at the start/finish.  Please be respectful and plan accordingly.  From town side, there are bathrooms at the Nuuanu Valley Park on Puiwa Street.  From the Windward side, there are bathrooms at Maunawili Park or the Windward City Shopping Center.
The run utilizes a handicapped start.  "More experienced" (aka older) folks start first; women start before men.  Your running number determines your start time.  Groups will start every three minutes until all runners are on their way.  For some, this means you get to cheer other runners for a while.
The course will be marked – PINK is the correct route; BLUE is bad. The start area and turn-around area will be marked.  For the 8.5 miles in between the ends, simply follow the trail and make no turns at intersections.  See the description below: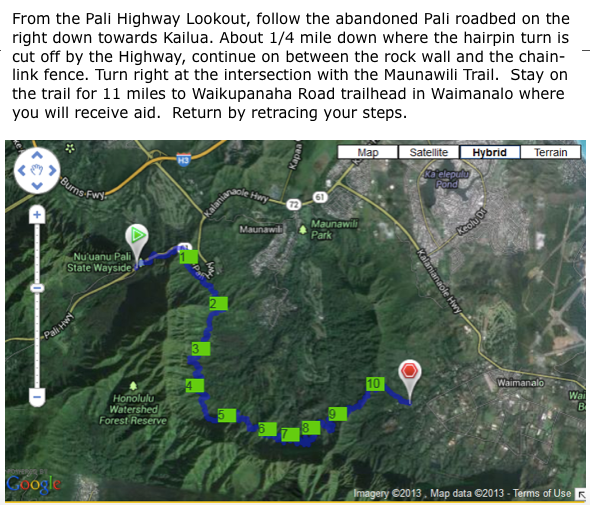 Each runner MUST carry adequate water for the entire 11-mile stretch of hot and humid trail.  We recommend 60+ ounces of fluids.  If you require calories during those 11 miles, it is your responsibility to have those with you.  The turn-around aid station needs to track all runners that pass through.  Make sure your bib number has been recorded. This is a low-key and fun event with few rules.  However, there are some behaviors that are absolutely disallowed and will get you disqualified:
Littering on the trail is not tolerated.
Conducting yourself in an aggressive or unsafe manner toward other runners, hikers, bikers, or equestrians is not tolerated.
Short-cutting the trail is not tolerated.
Leaving the course without notifying a race director is not tolerated.
Whining, pouting, and being grouchy are not tolerated.  Have fun!
NOTE: There is an early-start option of 6:00 am.  If you would like this option, you must notify Marian no later than 1:00 pm on Friday at 221-5171.  You will not be eligible for any award if you take the early start.
***There will be a special award for the most enthusiastic swine swagger.  Get your pig on and enjoy a great run!