Aiea Loop Express – Race Results
Aloha Athletes!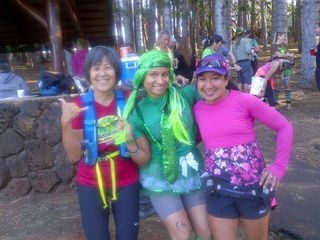 Yesterday kicked off the start of our trail series with the sold out Aiea Loop Express. Starting before dawn, runners began to arrive wearing their finest shades of green to celebrate the St. Patty's day theme. Most of the volunteers were clad in their finest winter attire braving the dare I say freezing temps of the morning, but overall we were blessed with a beautiful day of sunshine. The runners didn't have any rain to contend with this year but a few of the faster folks in front did end up doing a few extra laps around the loop. They took it all with great stride.
A huge mahalo to race director Mike as well as his lovely wife Brenda. From the decorations to the mustaches to the tattoos, Irish themed treats and living prizes, and copious amounts of mouthwatering food at the race finish, they, with the help of a huge team of volunteers, pulled off everything without a hitch. A highlight of the race was Andy Grandinetti out on course, for the second year in a row, playing his bagpipes as runners went by! Special thanks to John and PJ for doing an amazing timing job. I may just have to hire Mike to cook some more of that amazing brisket for my race later in May!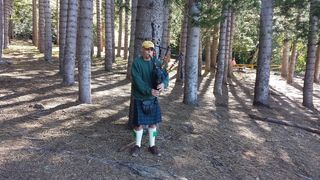 Results can be viewed here:   Aiea Loop Express 2015
Most importantly, it's important to remember that none of the races in our trail series could possibly happen without all the work completed behind the scenes by the race volunteers. A warm aloha to the army of H.U.R.T. volunteers and everyone who took part in organizing, cleaning, and course directing. None of this can happen without you.
Don't forget to sign up for the next race in the series, Vi's Top of Tantalus on April 11th. As of this posting there are 60 slots still available.
A hui ho,
Rosie