2014 Tantalus Triple Trek Results–UPDATED
Aloha Athletes,
The 2014 Tantalus Triple Trek was held today. Here is a shot of Rosie and Cheryl all ready for runners at their aid station. I stole all of these photos off Cheryl's FB page!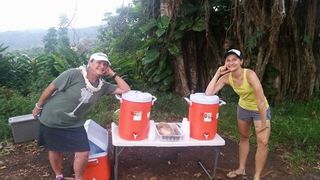 A combination of things kept me from the race today–disappointing to say the least.
2014 Tantatus Triple Trek Results
From what I can see by these results, the women runners had an outstanding day. Women took overall slots 3, 4, and 8 as well as 5 of the top 15 finishers. Nice work women!
John tells me that Race Directors Sue, Fish, and Heather all did an amazing job.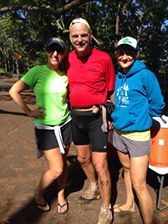 Mike Muench was over from the Big Isle.
I have seen other photos on Facebook. This photo of Keith at the bottom is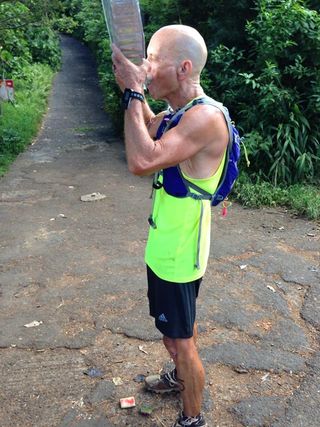 classic. Getting the last of water melon juices. It was a hot day out there I am sure. 
I am sure there are some great stories from today's run. I know there are a lot of people to thank for today's race and none of this would be possible without John, PJ and the race volunteers. 
For many this race marks the end of the 2014 Trail Series. For others, it marks the beginning of HURT 100 training. Before HURT, many runners will be heading up to Peacock to train for the Peacock races in October. 
Get out there and run!
Aloha, Bob