FINAL IMPORTANT ANNOUNCEMENTS FOR ALL RACERS: H.U.R.T. Trail Series Kaena Point Firecracker 10-Mile Trail Race
Saturday July 5, 2014 @ 7:00a.m.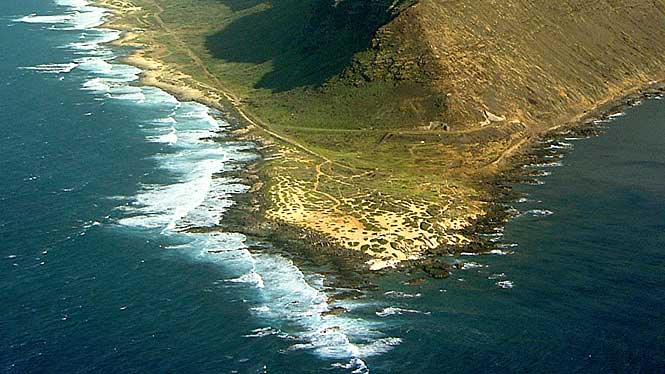 We will require ALL runners to carry adequate water (at least one 20 ounce bottle) during the run.
Please arrive no later than 6:30am to check-in and get your race number. IMPORTANT: THERE WILL BE NO LATE REGISTRATIONS FOR THIS RACE! We have very strict permit limitations on the number of runners we can have out on the course for this race, to protect the sensitive land surrounding the sanctuary and to maintain sustainability of the future of this race. We thank you for your understanding and cooperation.
COURSE ANNOUNCEMENT: This course no longer goes through the sanctuary, but around it, along the outside of the sanctuary fence. We will not allow any runners through the gate into the sanctuary. Do not touch the fence as you run along it. Do not run on the concrete at the foot of the fence as it is very fragile – it will be very tempting for some of you to run on the concrete, especially where the trail narrows or to pass other runners, so our Fence Patrol Race Course Marshals will be keeping a close eye on this! If you do not comply with their instructions, your number will be noted and you will be disqualified from the race, so please kokua.
Reminder: GROUP PHOTO FOR HEATHER H. @ RACE START!! Prior to the race start (about 6:50), we will gather as many people as possible for a group photo.  This photo is for our trail friend, Heather Howells, who has covered roughly 700 miles of the Pacific Crest Trail solo, with about 1900 miles to go.  The photo will be included in a re-supply box which she will retrieve in Bend, OR. around the end of August.  She will be thrilled knowing that her Hawaii family is sending her love and aloha as she undertakes this tremendous feat.  Marian Y. is coordinating this thoughtful gift for Heather. Thank you for contributing to this!
* Finisher Awards will be given to the top ten males & females that come through this finish.
* Free goodies from Honey Stinger for all finishers!
Make sure to stay on for our Potluck BBQ festivities after the race! Please bring a dish to share, a beach chair, swimsuit – whatever you need to relax and enjoy the post-race festivities!  Hotdogs, burgers, condiments, drinks, and fruit will be provided.
BIG MAHALOS to all our volunteers, without whom this race would not be possible (so remember to thank them when you see them or pass them out on the course!), and Ray at Runner's HI and Will from Honey Stinger for their generous donations.
Firecracker Race Fine Print (one last time): Kaena Point is a fast, flat, out-and-back course that parallels the ocean along jeep trails and an old sugar cane rail line. The course runs from the end of the pavement at Mokuleia past Dillingham Airfield and Camp Erdman, to where the pavement begins again on the Waianae coast side at Yokohama Bay. We will have an aid station with water, Gatorade, and light snacks set up at the turnaround, however, we will require ALL runners to carry adequate water (at least one 20 ounce bottle) during the run. It is hot out there and there is not much shade. Don't forget sun protection! There will be Race Course Marshals out on the course, follows their instructions or you will be disqualified from the race. They are there for your safety and to ensure course compliance so that we can continue to offer this race in the future!
Directions To Race Start:  From the North Shore, follow the signs to Waialua/Mokuleia. Follow Farrington Highway past Dillingham Airfield and Camp Erdman. At the end of the paved road, you will come to Kaena Point State Park dirt parking lot on your right. There will be parking attendants directing you where to park.
See you all very soon!
Julie T & Jeff F
Julie: julieDOTtakishimaATyahooDOTcom
Jeff: jwkfongAThawaiiDOTrrDOTcom