2014 Kaena Point Firecracker Results
Aloha Athletes,
Unfortunately I had a work commitment this morning so I was very disappointed not to make it out to the race. I saw some beautiful sunrise photos posted to Facebook. I borrowed this one from Cheryl: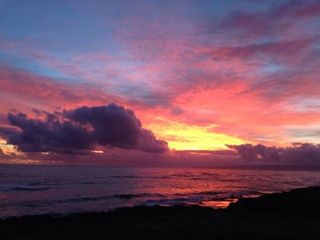 I also saw Rex posted up a couple hundred photos in albums on FB. As usual, I am reading glowing comments about the Race Directors, Juli and Jeff, as well as all the volunteers. I am sure a great time was had by all. 
The race results can be seen here. 
The next HURT Trail Series will be coming up on August 9th. Get ready to run with the pigs!
Aloha, Bob