Saturday September 28th: Peacock
Aloha Athletes,
Last week we had a HUGE turnout to welcome Gary and Linda back to the islands for their honeymoon run. I believe just about every stall in the parking lot was taken and we even had our own on-course paparazzi jumping out from behind various mountains and bushes…thanks Robert Smith for coming out and saying hello and taking a few photos while we ran.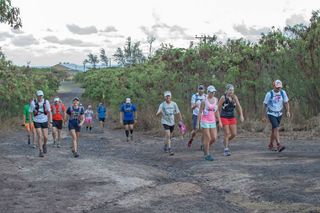 This week will be more of the same. My guess is that many of you are looking to do at least one more long run, to get in some time on the feet to simulate what you will experience on race day.
This week we will be starting at 4am from the base of Long Road for anyone who would like to join me. We"ll  be doing a full loop (30-32 miles total). Bring your flashlights and extra snacks as we'll likely be out there for anywhere from 6-8 hours. View the map to get directions on how to find parking if you aren't sure where to meet. (Map point "A" is bottom of Long Road. Map point "B" is suggested parking)
Otherwise, I'm sure there will be another big group heading out at 6. There won't be an official lead but you can post here if you'd like to see what others are planning on doing.
Aloha,
Rosie