A new race has just been added to the HURT Trail Series schedule!  On Saturday, May 26 at 7 AM, will be the "RUN FOR GEORGE".  This will be a fundraiser for our good buddy, George Ramos, who is battling cancer.  We've scheduled this the day before the "Paddle for George" event so you can do both!  It's a three day weekend so you'll have Monday to recover!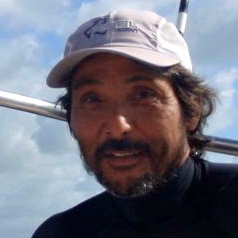 There will be NO ENTRY FEE for this race.  It will be DONATION ONLY.  100% of all donations will go directly to George to help with his medical expenses.  Any size donation is acceptable; we would suggest at least $10, but more is better, and less is OK.  So please show up and show your support for George.
The location of the race will be the incredibly awesome trails of the Pupukea-Paumalu Forrest Reserve. Distance will be around 9 or 10 miles.  These are beautiful single track trails with breathtaking views of the North Shore surf breaks.
So put this on your calendar now.  We will do a course preview run the weekend before.  I will post more information soon.  We could use a few more course marshalls because it's a maze up there!  So if you'd like to volunteer please let me or Sean P. know.
Spread the word!
–Steve V.