Saturday Training 4-28-12: Run with a View Training Run/Preview
Aloha Athletes,
Last Saturday's run sounded like it was really fun. Some surprise runners–who helped everyone learn–just because you are fast, doesn't help you finish first if you don't know the route. 
In any case, back for another week of fun and to help everyone learn the route, another training day out on the Run with a View course. This week, starting time will be at 6:30 a.m. at the park where the race starts. This park is on the left side of the road at the stop sign as you head up Kaahele. The great thing about starting here–this is where the race starts and there is a bathroom. Remember we are in a residential neighborhood so please keep quiet as this is an early Saturday morning. If 8-miles are not enough, you can always do multi-loops. 
So in preparation for the actual race on May 5 (Cinco de Mayo), the Mariachi Band was out practicing this past week: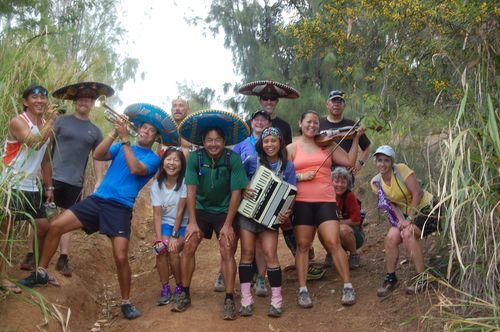 From what I hear, there is going to be quite the post-race celebration. I've heard rumors of homemade quacamole & salsa, possible tortilla's and all the fillings. Check with RD, Cheryl if you would like to help contribute. I have even heard some ice cold margarita's might show up. We have to be careful–we are in a public park so the red solo cup might replace traditional stemware. 
 Aloha, Bob