2012 Vi's Top of Tantalus Memorial 7-Mile Run Results
Aloha Athletes,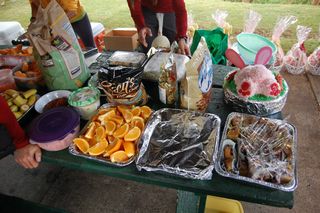 Well it looks like I really missed out on some fun this morning at the HURT Trail Series race. For those of you that were there–as usual the HURT races finish with quite a spread of food. From what I have seen in some photos–there seems to have been an Easter theme. The photo at left is from Wily Woo. Lucky for me (thanks Cheryl), I even got to sample a couple of cookies. 
From what I hear the bad thing about being first and fast, especially when you, a) don't know the course and/or b) don't listen really close to the pre-race instructions (Blue (flagging tape) is bad and don't go down that trail), you can take a wrong turn, get lost and end up finishing way down the list. I won't mention any one in particular, JD.
Thanks to Race Directors Kat and Jeff for putting this all together. I know there were lots of others who helped–thank you too.
Here are the race results: 2012 Top of Tantalus Results 
Doug Baker sent me a link to some photos he took: Doug Baker Photos
I saw some photos on Facebook from Wily Woo and I heard Robert Smith was out taking some as well. 
The next race in the HURT Trail Series is the May 5th, Run with a View. 
I got out for a great MTB ride late this afternoon–the trails were amazingly dry. 
Aloha, Bob