Saturday Tantalus Triple Trek Training Session
Trek Training along the Cliff Trail.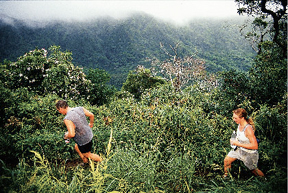 Who:  All runners are welcome to join in on the training sessions.  Trail conditons are roots,rocks, mud, steep ups and down, lots of mud, bad footing, plenty of great views and fresh air. 
Time: Saturday August 20. @ 6:00 AM
Place:  Meet at the Picnic table above the Hawaii Nature Center.(before the bend on Makiki Heights Drive.)
Parking:  Best to park on Makiki Heights Drive, or down near the water tank.  Trail head parking lot is often target of smash and grab gangs. 
Goal:  The Plan is to do TWO Trek Loops (10 Miles each).  One is OK.  Come early or come late (8:15 or so for second loop.)   Two to Three hours for each loop depending on speed.
There is water at the bathrooms. Bring a gallon if uncertain.  You need to have 40 to 80 ounces for each loop. Bring nutrition.
Jeff Fong and Keoua Huddy will lead this weeks training session.   
Have fun, and Aloha!  Mikem