2011 Run With A View Race Info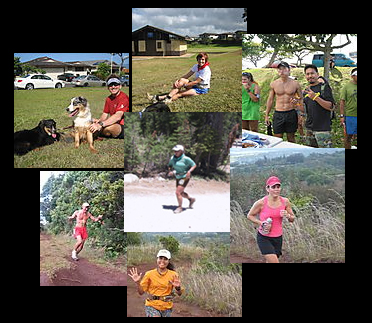 Aloha Athletes !
This Saturday, May 7, will be another fun Run With A View 8 mile race, primarily on trails. The race will start at 7:00 am, so please plan to be there to check-in around 6:15-6:30 am. All you should need is your $10 entry fee and a water bottle. We will havewater and Gatorade to drink and lots of cool snacks for after the race. Rumor has it that Kat will be bringing her fabulous mochi, Cheryl will have 2 tubs of her famous pasta salad and there will be a surprise chef bringing her designer cupcakes. Plus there will be the usual fruit , chips and sodas. You can only imagine how bummed I am to be missing all this due to serious back pain. Oh well. Grrrrrr.
For those of you who have never done this event, you need to get on Kaahele St., heading mauka. Stay on Kaahele St. until you get almost to the top, where there will be a stop sign with a neighborhood park on the left. This is where check-in is. Parking along Kaahele St. is a good spot.
Since we won't be selling HURT Trail Series shirts on site, you can go to www.missionpositivefilms.com to order  on-line. If you order them on time, we can arrange for pick-up at the race.
As always, race director Cheryl will be taking good care of you. I apologize for not being able to be there to help. Don