HURT 100 Week and Support for IHS (updated with contact info)
Aloha Athletes,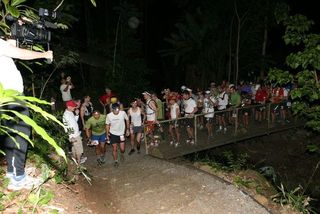 It is the week many in our local ultra community have worked hard for all year. I want to wish the best to those running this weekend in the HURT 100. Runners entered in this weekend's race have worked hard and long, putting in the needed hours to train for a 100-mile race. They eagerly await the blowing of the Conch shell symbolizing the start of the race. 
If you are not running this weekend and would like to get involved, feel free to come by any of the aid stations to lend a hand. Contact any of the Aid Station Captains; Freddy Halmes (218-1577), Rex Vlcek (vlcekr@hawaii.rr.com), and PJ Salmonson (hurtpals@aol.com)  would love to have your assistance. Aid Station Captains and their crews will work hard all weekend to support the runners. 
Mike Muench has agreed to take away our leftover food and deliver to IHS after the race.
He is asking people to bring donations of clothing, food or household articles to the Friday meeting- he will be there to take it to IHS —- Institute of Human Services.  Long time local based charity to help homeless and socially vulnerable.  They run a daily feeding service, have a dormtype shelter, offer women's and family support.  They run a large facility down near Costco off of Dillingham.  They seem to make effective use of most any decent usable, be it food or clothing or household goods.  It is all used by local families in need.
Rest up runners!
Aloha, Bob