The Final "Peacock 54" 2010 Results
Aloha Athletes,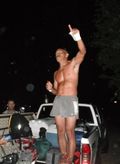 (Wily Woo Photo)
RD Gordon kicked off the 2010 Peacock 54 with the announcement that it was the last and final Peacock 54. At first there were some stunned (maybe even disappointed) looks on people's faces. Gordon quickly changed all of that by continuing with the announcement that going forward, the Peacock would be lengthened to full 100k distance. Wow, and that is how the day started. It only got better from there. 
With a full moon setting over the ocean, runners were off at 6:00 a.m. up Kealia trail. The morning was actually cool in the pre-dawn hours but that quickly changed as runners headed up the hill. 
There can be many things said about the Peacock 54 but easy isn't one of them. This race keeps up the HURT tradition of tough races. 
Fifty-one runners started the race, however far fewer finished the full 54 miles. 
Some notes from John Salmonson:
About a 50% finishing rate, but about 90% among the women.
Scott chased Hannah and Julie all day and finally passed Hannah with a couple of miles to go.
Don't remember ever having two women in the top three and so close to winning!
Many thanks to Gordon and all the volunteers, this race is hard on everyone!
Mahalo to Don and Gordon as Race Directors. Special thanks to Rob Lahoe for the up top aid station. Also thanks to Ernest, Fish, Cheryl, Kat, Freddie, Vernon, Doug and all the other volunteers. 
There are a lot of stories that will be told about this race and hopefully a lot of lessons learned. Hannah Roberts and Julie Doheney were racing and leading for much of the day. Apparently it wasn't until the last few miles that Scott was able to take the lead into the finish. 
For those racers entered into the 2011 HURT 100, lick your wounds, rest your legs, take the lessons from this race and apply that to your training as you prepare for the HURT 100. 
Get out there and run!
Aloha, Bob
Click here to see some photos from the finish that Doug Baker took. Thanks Doug!
Congratulations to all the finishers. Here are the results.
| | | | |
| --- | --- | --- | --- |
| Place | Name | Time | |
| 1 | Scott Kuwaye | 11:58 | |
| 2 | Hannah Roberts | 12:02 | |
| 3 | Julie Doheney | 12:09 | |
| 4 | Jeff Fong | 13:23 | |
| 5 | Larry Inouye | 13:25 | |
| 6 | John Robb | 14:08 | |
| 7 | Doug Long | 14:20 | |
| 8 | Sue Lohr | 14:24 | |
| 9 | Ben Wunderlich | 14:54 | |
| 10 | Randy Flores | 14:54 | |
| 11 | Gordon Lau | 15:05 | |
| 12 | Wily Woo | 15:17 | |
| 13 | Jesse Story | 15:18 | |
| 14 | Tom Craven | 15:21 | |
| 15 | Julie Ng | 15:28 | |
| 16 | Alex Garcia | 15:32 | |
| 17 | Deanna Clements | 16:15 | |
| 18 | Mike Muench | 16:30 | |
| 19 | Marian Yasuda | 16:37 | |
| 20 | Jan McGriff | 16:39 |   |
| 21 | Kiley Momohara | 16:39 | |