Wily Woo Worked Hard on Labor Day Weekend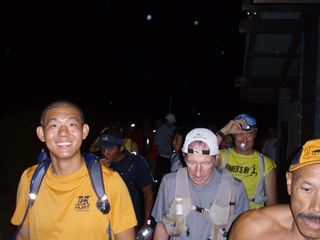 See that smiling, eager face on the left side of this photo? That is what Wily looked like at the start of his Labor Day weekend.   
He is the only person I know of who started on Saturday by running the Tantalus Triple Trek, a 50K jaunt through the mud and forest. 
After finishing TTT, Wily hopped on a plane over to Kauai and ran the Kauai Marathon Sunday morning.
Monday he decided to take a break from running and he swam the Waikiki Rough Water swim. 
I am not sure what Wily looked like after the swim but if I know him, he was still smiling. 
Congratulations Wily! 
P.S. last year several people attempted the TTT followed by the Dick Evans Bike Race and finished with the Roughwater swim. With no official Dick Evans this year, Wily did the next best thing–he ran two races before swimming.