My Adventures in Shopping for Trail Shoes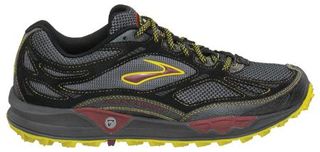 I needed to shop for some new trail shoes and did what I usually do, I asked what other runners have been wearing. I was looking at just general trail shoes, not race specific or even hundred-mile specific. Just something comfortable that I could wear on the trails for runs leading up to say, Triple Trek distance (50k).
I sent an email out and got back a few responses. One shoe popped out, Brooks Cascadia's. I have worn many different brands of shoes and am not wedded to any brand. Salomon, Adidas, Saucony, Montrail, Vasque, and LaSportiva are just a few of the brands i have worn. 
I have become more familiar and aware of the Brook's brand through talking with and reading the Frayed Laces blog of Laura K. Laura has become a Brooks poster child of some sort and I say that only in pure envy, as she gets all kinds of goodies and I think has even traveled for Brooks to some events. Enough on that for now. 
So with a desire to get some new trail shoes, I found myself in a certain part of the island last week and stopped by a running store in that area. I walked in and though I did not see the owner I was met by a young man and I asked him if they had Brooks Cascadia's. He asked what size and I responded back, I am not sure, I have never worn them but lets start with a 11-1/2. He went to the stock room and came back and said all they have is size 11. I tried it on and immediately knew it was too small. The man took the shoes and disappeared. I walked up to the other trail shoes on display and they had a few other nice looking shoes. Some I was not familiar with and one in particular was really nice and light. I believe it was Inov8. Unfortunately the young man never came back to ask me if I would like to try on anything else or to discuss and suggest any of the other models. So, what did I do? I walked out and so did my $100 for new trail shoes. 
The next part of the day took me to another local community with a running store. I walked in and two people came out from a back room. I again asked, do you have Brooks Cascadia's? The man replied, No, but we can order them. My response was, So can I. I walked over to where the shoes were displayed and again saw a few interesting shoes. There was a nice looking pair of Montrail shoes but no one seemed interested in asking me if I wanted to look at any other shoes. Again, I walked out. 
Now I realize in both stores, I could have asked, "hey do you have these in my size or can you tell me about these shoes?" I didn't. Neither did any of the so-called sales people. Unfortunately neither of these stores got my business. In today's economy, how can retail stores afford to not have well trained and customer focused sales people? For store owners, that is money out the door and not in their pocket. We want to buy and support local stores but you can't buy it if…
Now I have to believe that these are not isolated experiences. In both cases, the owner was not in the store. A disclaimer, I worked for one of the best retail selling experts in the country and he is based here in Hawaii. His purpose is to help retailers sell more products by teaching a simple 9-step sales process (pro-active, no- pressure selling) and then show owners and managers (and sales people) a system for how to monitor it to increase sales. I think these running stores could use his help. 
A couple days later, I still needed shoes. I had a gift card from my daughter for Father's Day at a big box retailer. I decided to go there and use it to get some new socks. Now everyone knows, you don't get good service and you won't find good trail shoes at a big box retailer. Guess what? I was surprised. 
What I knew already about this retailer was that they carry Asics and Adidas trail shoes and maybe even some Nike trail shoes. I was pretty sure they wouldn't have what I was looking for. Hey, it never hurts to look. I tried on a pair of Asics and they felt great. There was another pair of Asics but I couldn't find my size. Notice how I am looking for the sizes myself. There were a couple of sales clerks around and they would ask if they could help, but I said I was OK and finding what I needed. I was pretty sold on getting the one pair of Asics but I wasn't totally convinced yet. There was one more running store that I wanted to check out. As I was holding the shoes, another sales person came by and asked if he could help me. I told him I was pretty interested in getting the Asics but I also was looking for my size in the other Asics model. He looked where I had just looked and even went into their back room to look. He came back empty handed. I told him I wanted to look at one more running store. He knew the shoes I had were the only ones in my size so he asked me if I wanted him to hold them for me. I said that would be great and we exchanged names and I left. 
At this point, I texted my wife saying "Things are getting interesting on the shoe buying adventure with the big box retailer having the best customer service so far." Imagine that! The one thing the sales people at big box retailer seem clueless about is which shoe for the type of runner you are, i.e. neutral or needing stability. I recently heard of a store on the mainland that has their shoes organized by the shoe type as related to stability, neutral, etc. versus just putting all the mens shoes together in a section and women's in another.  
I went to my next meeting and then headed over to the last running store I wanted to visit. I walked in and was met by a young woman who asked if she could help me. I told her I want to look at their trail running shoes. She led me over to them and asked if I was a neutral runner or needed a stability shoe. I told her more neutral. She pointed out the various shoes that were neutral and that included both the Brooks Cascadia and a Saucony model. I told her I would like to try both on and after asking me my sizes she went to get me shoes to try on. I tried them both on and they each felt great. The Brooks almost seemed a bit lighter in weight and she said it might be due to the Saucony having a vibram sole. That was something I had not noticed but I am aware that vibram soles don't usually work well on our trails when the trails are wet. 
I decided to go with the Brooks. I have worn them three times now. Once on about a 12 mile run and twice on a shorter run that was only about 5 miles and half road, half trail. So far I love them. The seem to offer a lot of protection on the sole and seem very cushy in comparison to what I have been wearing. 
I realize this is a long post about shoe shopping but I think it is important for our local running stores to think about upgrading the training of their staff. The retail expert I worked for has written books and provides coaching to store owners and sales people. Sure that costs money but having poorly trained staff also costs money as evidenced by my own shopping adventure. It took going to four stores to get a pair of shoes. Again, I wasn't looking for a specific branded shoe. At the very least, pick up a copy of Retail Selling Made Easy. Another thing, you can't sell what you don't have and today people have lots of options with so many mail order companies offering free shipping both directions.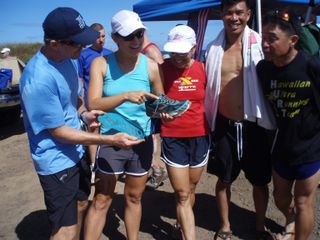 As for Frayed Laces and her Brooks connection, it was a year ago when Laura was showing off her Brooks Cascadia's out at our Kaena Point Firecracker race. We were laughing about the fact that inside the shoe, there was a map of the Western States 100 route printed on the insole. One of Brook's star athletes and advisor is Scott Jurek. The newest version I bought does not have the map anymore but Laura, you can tell the Brook's people that your ninja mind tricks are working, albeit rather slowly and I am becoming a Brooks fan. I might just have to check out their road shoes. Maybe it won't take a whole year, I've got my eye on the Defyance 3. 
Aloha, Bob