Running 50 Miles a Day in 50 States: Running Hope Through America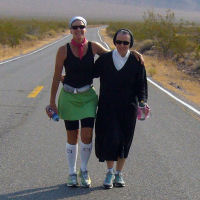 How would you like to wake up each day knowing you are going to get up and run 50 miles?
Can you imagine? How would you handle that? What would your body feel like? Think about it. 
Each day you get up and you run 50 miles. Then you eat, sleep, get up and do it all over again. Not just one day, but every day until you have run 50 miles in every state of the United States. A total of 2500 miles in 62 days.
Lisa Smith-Batchen, one of the world's premier ultra-runners, will be the first person to attempt to run 50 miles in each of the 50 states.
This is what Lisa Smith-Batchen has been doing since April 19th. She has not been doing this alone. Sister Mary Beth Lloyd has been there with her.
Sister Mary Beth, 61, belongs to the order of the Religious Teachers Filipini, an order dedicated to education. Sister Mary Beth will run alongside Lisa in her full habit: a black wool tunic over a white shirt and underskirt, black headpiece and a black woolen belt… and sneakers.
Sure there have been a few rest days but every day is all about running 50 miles.
What is their motivation? What would make you get up and run 50 miles every day? For Lisa and Sister Mary Beth, it is what they do, it is what drives them. They are doing this to raise money for orphans. Lisa is hoping to raise a million dollars with the Running Hope Through America project.
She has already raised over $4.5 million dollars to date with her other running activities and projects. It has all gone to support orphans. 
On Saturday, June 12, Lisa and Sister Mary Beth will be in Honolulu to run their 44th leg of this journey. They will be 2200 miles into the run. How would you feel? They do it every day for one purpose.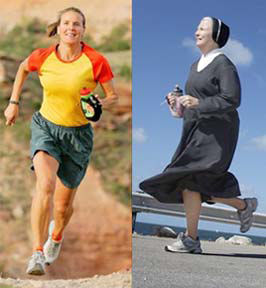 Please consider coming out to support Lisa and Sister Mary Beth. You can read more about their purpose and project here.
Let us show them some Aloha. Please consider making a donation to support their cause.
The Dreamchasers Foundation, founded by Lisa and Sister Mary Beth, will give 100% of the donations made to AIDS Orphans Rising. Donations can be made directly here.
Lisa and Sister Mary Beth will be running Saturday at Ala Moana Beach Park starting at 5:30 a.m.
The starting point/aid station will be on Magic Island on the Diamond Head side, near the bathroom.
Click here to see the route.
Let me know if you can help out.
Aloha,
Bob