HURT100 2009 champs win Western States 2010
Geoff Roes (HURT100 winner in 2009) and Tracy Garneau (two-times HURT100 winner and current  HURT100 course record holder) won the WS100 last night in what looked like perfect conditions. Geoff Roes (15:07) as well as runner-up Anton Krupicka (15:13) both bested Scott Jurek's 2004 course record, with long-time leader and 2008 UTMB winner Kilian Jornet Burgada (22 years old!) in 3rd. Tracy's winning time of 19:01 put her safely ahead of Meghan Arbogast and Nikki Kimball in 2nd and 3rd place. Full results (and more) can he found here.
A little extra drama was added to the women's race by the evening announcement that the female lead Tracy Garneau had dropped out of the race at mile 80.  The cause, a confusion of runners at the Green Gate checkpoint, became clear when she magically reappeared two hours later running side by side with the sole finisher from HI, Paul Hopwood!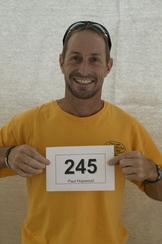 Speaking of Paul… 19th place in 18:59 in what was arguably the strongest field at WS in living memory. I think he mentioned he was hoping for a sub-24hr time. Well, that seems to have worked. Duh!
Visual impressions from the race can be found on youtube, and here's a glimpse of Paul at mile 62 looking totally at ease.