Favorite Moments from this weekend's Island Perimeter Run by Jan M.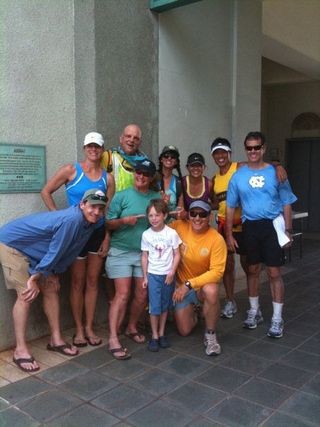 While going around the Point at 2am, Mike M says: "where'd all this MUD come from??"
Andy G showing up in Kapolei on Sunday morning in a kilt, playing bagpipes
Julie T:  "Whoever invented wet wipes is a genius!"
Seeing the smiles on faces of a bunch of ultrarunners who are out torturing themselves for 2 days on their feet, covering endless miles of road
Heather H:  "I can't stand to sit anymore!"
Running up beside Paul S near Waialee on the North Shore to introduce myself, saying: "Hi, I'm Jan" and he replies: "I'm hurt."
Mike M's perseverance.
The sense of joy and relief every time there was a support crew on the side of the road:  fresh smiling faces,  food, encouragement, people, food, a few good laughs, food, drink, and more motivation to keep everyone going.  And, food.


Julie running in slippers when we took off to catch up to Mike & Paul on the North Shore.
Heather: "I can hear you sleeping." (in Arvil's car at Dillingham)
Bananas and Gatorade.  You can live for days on it.
Bonita and Arvil's friendly, excited faces when meeting up with us Saturday night in Haleiwa
Cheryl:  "Mike's just stubborn."
The sweat, dirt, spit, runny noses, sticky everything, chafing, dried sweat, tears, rancid smelling runners, blisters, pain, soaked shirts/shorts/socks/hats, fatigue, endorphins, mud.  Hey, ain't nothin' clean about this sport, people. 
Steve telling us that Mike had carried a bite-sized Cliff Bar with him for about 30-40 miles.  Never opened it.  Never ate it.  Then up at Turtle Bay, he left it in the back of the van.
McDonald's in Waianae at 5am Sunday.
Rex:  "Are you RUNNING????"
Cheryl:  "You better slow down."
Getting a mouthful of an expired Strawberry GU that I didn't know was expired…. BULLECH!!!!!
The comedic moments of watching Mikey try to open a tiny ziplock baggie after 30+ hours, and saying "no, I got it".  Multiple times.
Cheryl driving my cup of Starbucks coffee from Kapolei through the next several aid stops, so I could stop and take a few gulps each time.  Sheds new light on enjoying a Sunday morning cup of coffee.
Cheryl's extensive knowledge of Starbucks locations.  On the entire island.
Figuring out what works for you.  And what doesn't.
The number of supporters that showed up at various times and places around the island (Brenda & Ryan, Steve D & Lindsey, Don & Heather, Arvil & Bonita, Rex, Rob, Jeff, Stephane, Frank, and Steve)
Cheryl's parking jobs.
Thinking that having only 30 miles to go is awesome.
When I finally got my pizza from Gordon Biersch.  I ate 5 slices on Sunday night and didn't feel an ounce of
guilt.
The finest example of seeing people look out for one another, and knowing that HURT is your ohana.
Cheryl, you were a rock for us the whole way – the best support crew we could have asked for.
Jan:   We were a great team – everybody working together is what makes it happen, not to mention it's just downright fun.
—————————————————————————————————————————
Report by:  janm
HURT Island Perimeter Run, April 16-18, 2010
https://hurthawaii.com/2010/04/are-you-ready-to-road-rumble.html