Harald Stuns With New Course Record on The DARKSIDE!
Here is a great article on Harald from this morning's paper!    Enjoy Kalapu!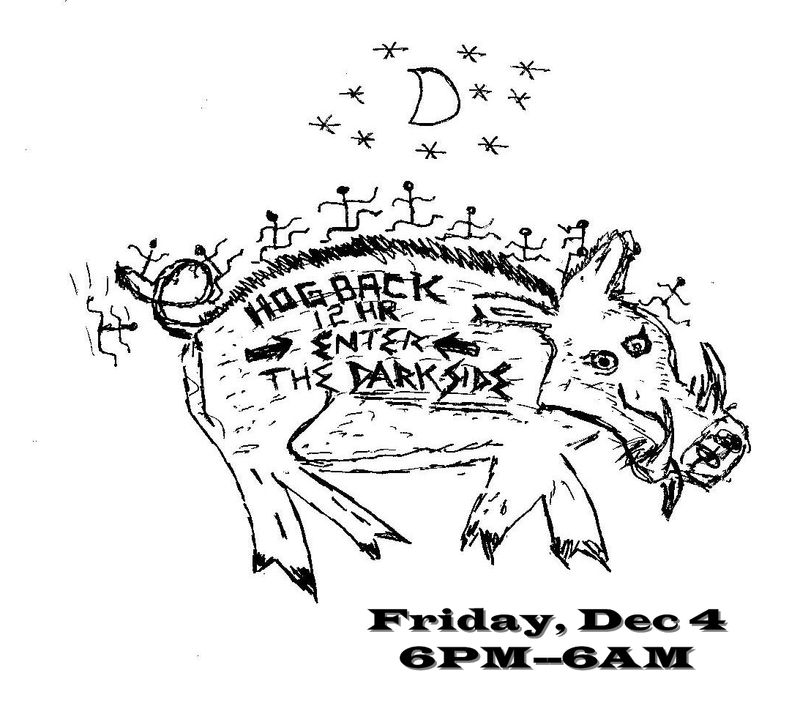 Harald Stuns With New Course Record on The DARKSIDE!
Kenai Pepelo,  Reporter,   Honolulu Star Advertiser,  Saturday November 5, 2009.
Harald stunned the Hawaii Ultra Running community last night racking up an impressive 14 loops over the Darkside Hog'sback course.  Though not official his fastest pace over a loop was in the low thirties which  permitted him to lap the rest of the field in a single loop.  Kalapu, the race RD, interviewed just after the race, commented that Harald's achievement was just shy of super-human and one which would likely stand as a record in the Hawaii Ultra Running annals for decades to come.  Great Run Harald!!! You are Today's Super Hero!!  We Love you!
Unfortunately Harald was observed walking the last portion of the last loop, an act that has sorely disappointed some of the biggest ultra running fans in Hawaii.  Betty Bumble, the President of the newly organized 'We Love Harald' committee commented that she felt Harald had let his fans down.  "Lots of little runners looked up to Harald, and sought to emulate his achievements, and this instance of walking on the course is a major disappointment.  What kind of message does that send our keiki? Harald should have thought of that before walking and considered the impact he would have on all the little runners.  How many of them are going to give up the dream of ultra running and now go out and just break into cars at the Nature Center Lot, just like Harald broke their hearts last night! Now we know who is responsible for all those break-ins!  Harald you are a shame!" she concluded. "
Vice President of the committee Warren Whines commented that not only had Harald been walking but that he had also been observed talking to other participants as he walked.  "I don't know, but it looks fishy to me.  Like maybe Harald has ties to the mob and this was really a fixed race.  I wonder who was making money on such a fix. It's all a shebi, Harald is playing his fans low by making huge money betting on his races, that's for sure."   
Lt. Winston Chin, commander of the Hawaii Organized Crime task force was contacted for his comments on Harald's links to the Mob, and he gave the following statement.  "We have not yet concluded our investigation of Harald's organized crime links, but we hear that these ultra runners have ties to a lot of dirty people up there in Makiki.  Harald appears to be one of the dirtiest and one leader, and as such we intend to ask him in for some detailed questioning.   Fixing races is a RICO crime and Harald will end up serving 20 to 50 years for his dirty deeds on these race related offences.
When recontacted race director Kalapu was stunned by this information.  "We had no idea Harald was a made man, we  thought he was just some foreigner with a funny accent, we didn't realize he was fixing races and heading the Makiki Syndicate.  We are stunned.  It's just pathetic.  In fact it is so pathetic that we decided to award Harald the MOST PATHETIC Ultra Runner of the race for his blatant flouting of the mores of the Ultra Running Community.  Harald, you pathetic man, it doesn't matter what you have accomplished, look what everyone is saying about you, and all the little ones who you have disappointed so!"
Other finishers of the Darkside included Rex who took the Most Painful Loop Award, not so much for his pain, but for his crying about his tummy going off.  Ernest won the "You Don't Really Think You Can Do the HURT??!"  award for the simple fact that he finished and they had to give that bag of goodies to someone.  It's certain that if his knees don't go south running as a 4:00 pacer in the Honolulu Marathon Ernest will finish the HURT! 
Rex and Mike finished with 11 loops.  Frank had 7.  Ernest, who started late had 6.5, Cheryl who had to go fix Gill his before bed-time snack,  had 5, and Fish, who did a HURT loop first came along for company, had one.
It was a great challenge, even if Harald is One Pathetic Kine Guy!!