NEW ADDITION: Check out photos from the Sweetheart's South Loop here.
The group for the Sweetheart's South Loop on February 14, 2009 was slightly smaller than last year, but no less enthusiastic.  Everyone was excited and raring to go.  In fact, maybe a little too excited. 
We divided into two teams, pink team and red team, each got a camera and instructions, and we were off.  Along the forty-mile course, one pink and one red riddle was posted on sign posts about every two miles.  Once each team solved their riddle, they had to try and find the object of the riddle and photograph it with their teammates.  Well, one team, which shall remain nameless (begins with an "r") was so excited that they missed not one, not two, but three clues along the way.  It seems that these jack rabbits were so gung ho that they kept their heads down and just hammered.  They were cut some slack and able to recover from their deficit to photograph almost all of their items.  The other team was diligent in finding every riddle, and was able to solve and photograph all of them. 
The weather was absolutely perfect all night long, even with the tremendously gusting winds along the way.  We had to put rocks in Heather's pockets to keep her from being blown off of the Pali lookout!  Due to a misfortune of a motorcyclist, the Pali Highway was closed down to all vehicular traffic.  We had the entire Kailua-bound Pali lanes to ourselves and really enjoyed not playing dodge-that-car.  Our crew members had to scramble after they were turned back before entering the tunnels.  They were back crewing us in no time by navigating the back streets to cross the mountains on the Likelike Highway.
These eight brave and hearty souls started and finished the entire forty-mile course.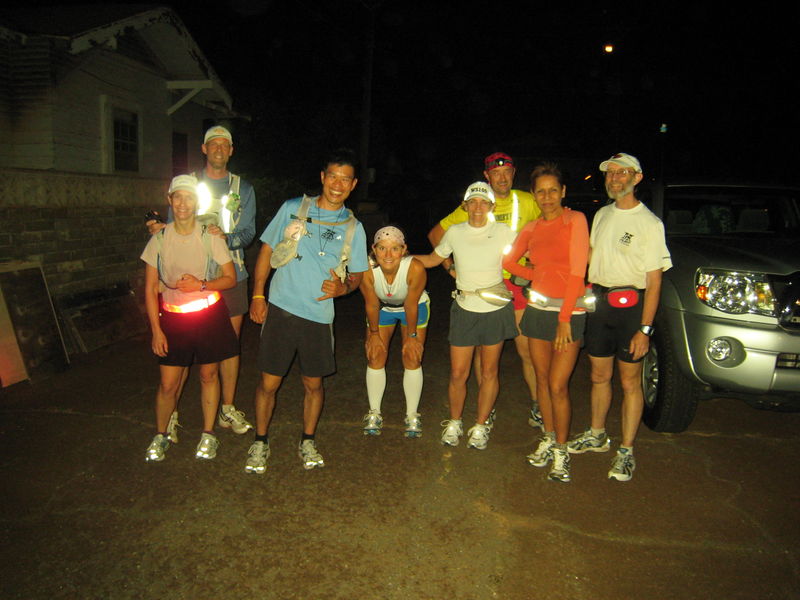 Heather McCafferty, Harald Eberling, Jeff Fong, Laura Kloepper, Marian Yasuda, Freddy Halmes, Gio Aguilera, and Tom Craven
Fish, Bozo, Joel, Steph, and Neal all joined in for parts of the run.  Cheryl, Brenda, and Ryan were tireless support crew for us.  They fed us, gave us fluids, provided light and security in areas that we felt less-than-safe, and were the best all-around cheerleaders.  Huge thank you to everyone that provided support for us!  I think that everyone had a blast and will have great memories from their Valentine's Day excursion.