2019 Tantalus Triple Trek – Mahalo Nui & Aloha
Congratulations and thank you to all those who participated in this year's Tantalus Triple Trek! It was another exciting and intriguing race this year. It had the highest start and finish rate from past years with 88 lining up that morning and 69 completing all three fun torturous loops! We hope you all came away with many great memories.
Race results can be viewed here http://ultrasignup.com/results_event.aspx?did=63369
Photographs from Mikey Brown may be viewed at his online gallery.
It takes more than a team or a village to put on this event with all the various logistics and planning. Much mahalos to the awesome Ohana for all their time and efforts: PJ & John Salmonson, Jeff Huff, Freddy Halmes, Iris & Glenn Oshiro, Benita and Arvel Shults, Myra Pacubas, Ronald Federizo, Ruby & Loren Aquino, Taeho, Marian & Neal Yasuda, Kana Yamamoto, Jacque Tellei, Jacki Dopplemayer, Lauri Yonemoto, Sean Fox, Mike Cole, Augusto Decastro, Benito Quintana, Amanda Allgood, Jaren Oshiro, Rachel Parker, Adam Fabel, Mike Hee, Solange Saxby, Sarah Santilli & Jeff Cashon, (Little) Jenn McVay, Rick Otani, Joani and Chase McLaughlin, Heather McCafferty, Rex Vleck, and Jeff Frank. Whether it was manufacturing the trail markers, directing runners, assisting runners, manning the food tent, putting up or taking down trail markers, these awesome people came together to help put on something special. We are beyond thankful to all of you!
Big thank you to our trail maintenance volunteers – Anna Albrecht, Sara Santilli, Donielle Wolfe, Julie Bertand, Julie Ng, Myra Pacubas, Jeff Cashon, Chris Wolfe, Mike Cole, Adam Stivaca, Allen Plack, Ivan Colon, Chris Flint, Wookie Kim, and Freddy! The trails were in great condition race day!
Many thanks to Todd Masui of Subtly Studios for the logo design (which we have used the past few years)!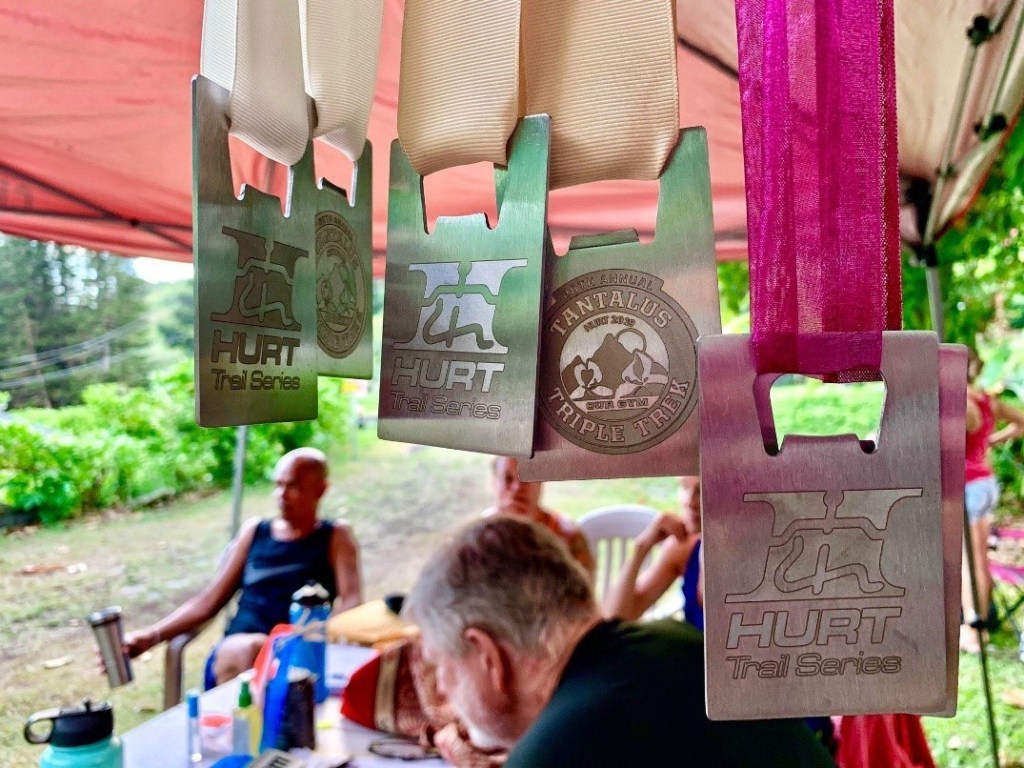 We truly hope that all who attended this annual event had a wonderful time. It was a great pleasure putting this event together and witnessing the various finishes, changing faces, and fun moments! See everyone again next year for the running of the 29h Tantalus Triple Trek… same route, same distance!!
Aloha No,
Sandi & Jeff, 3T RDs