Vi's Top Of Tantalus Race Day Instructions
Aloha Athletes,
Vi's Top of Tantalus is sold out but we are looking forward to seeing everyone who has signed up for race #2 of our HURT trail series this Saturday, April 6. The race starts at 8AM and the park opens at 7AM. Please arrive by 7:30 at the very latest to ensure a timely start. Volunteer spots are still open if you would like to come out to show your support.
The race will start and finish at the Pu'u Ualakaa Park, about two miles up Tantalus Mountain on Round Top Drive.
According to our permit from the Division of State Parks, we are required to leave parking spaces open to other park users. Please park outside the entrance to the park on Round Top Drive, making sure your car is COMPLETELY off the roadway. Carpooling to the race is highly encouraged. If you need a ride or can offer a ride, please comment and respond on this post. The vehicle operator is solely responsible for consequences that may occur due to illegal parking.
The race will start at the covered lookout, past the bathrooms, and finish in the upper parking lot. The route will be marked with our ribbons, which will be explained race morning when you check in. Below is a map of the course. Please bring a copy with you if you are unfamiliar with the route. Click here for a printable copy.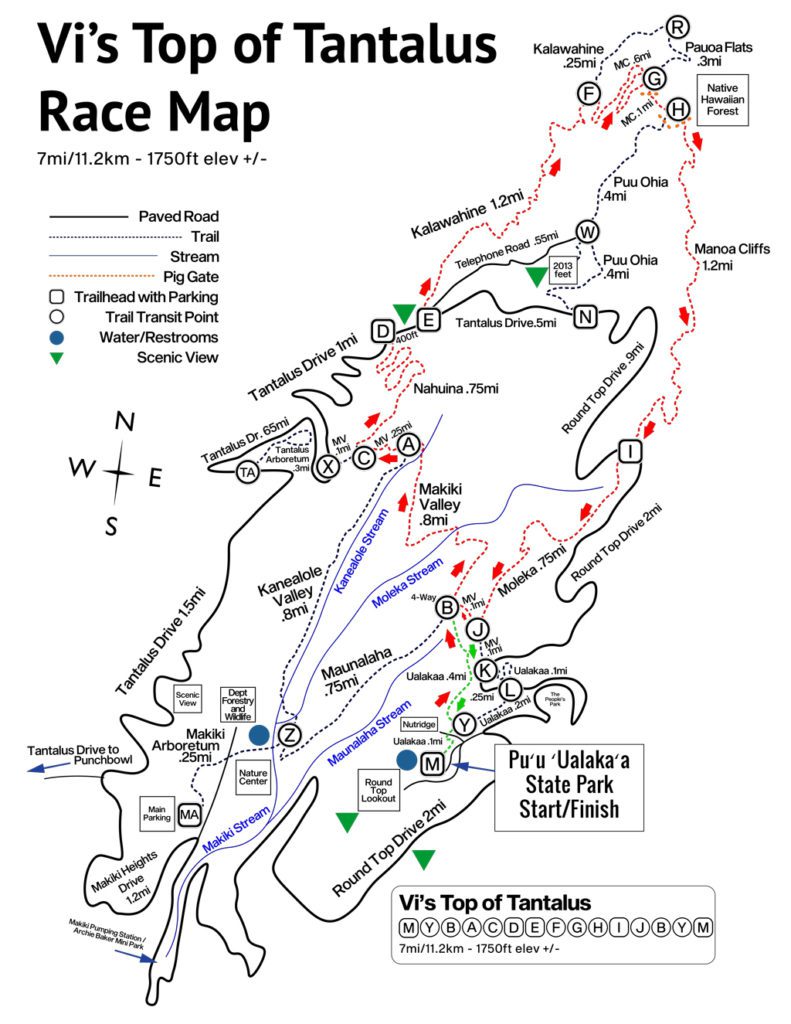 There will be NO aid stations. It is highly recommended that you carry at least 20 Oz of water. The course is rugged and hot.
This is a State Park, so alcohol is not permitted. If you have to drop out, it is mandatory for you to inform one of the race directors at the start-finish, before the race is over.
This race is conducted in memory of our dear HURT friend, Vi Medusky-Jones, who passed away from ALS several years ago.
We all look forward to seeing you.