Preview Run for Maunawili Out and Back – Saturday, July 14 at 6:00
Congratulations to Benita and Arvel for a great race out at Kaena Point!
Now it is time to get your Maunawili legs in shape so that you are ready to Run with the Pigs on August 4!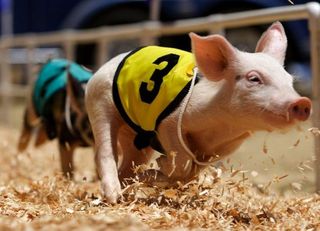 The fabulous ultra-power couple, Donielle and Chris Wolfe, will be leading the first of two preview runs on July 14th at 6:00.  Meet them at the top parking lot at the Koolau Golf Course by 5:50 for a 6 am start.  If you are unfamiliar with the course, it is best to stay with someone who knows the course. 
The course will be the full distance (22 miles) to Waimanalo and back.  If you do not want to do the full distance, you may turn around at any point and return, or arrange for a ride to pick you up at the trailhead in Waimanalo.
You MUST carry enough water for at least 11 miles, and it can get really hot.  There will be a stash of water and snacks near the trailhead in Waimanalo.  It will be in a black rubbish bag – you will receive more detailed instructions regarding location at the morning start.  There should be enough for everyone to refill for the return trip. 
REMINDER: Friday is the final day to place your order for race t-shirts and trucker caps.  You may place your order here; then you will receive an invoice from Paypal.  You must pick up your gear at the start/finish before 2 pm on August 4.