Kaena Point Firecracker Final Instructions, 7/7 @ 7am
When: 7 July 2018. Race starts at 7:00am.
Location: Kaena Point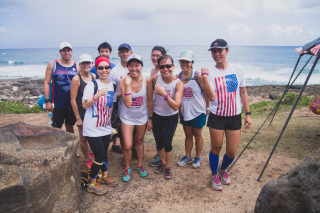 If not attending, please cancel your run in Ultrasignup. This will allow us to put others into the event so that a slot is not wasted.
When you arrive, please take direction from our volunteer Parking Czar….. There is NO parking allowed in the main lot; this is for our non-running park visitors. Please park where directed. There is also NO parking near the DLNR building access gate across from the parking lot, it will be coned off. Additionally, NO dogs or other pets are allowed at the event or at the park.
Please plan to arrive no later than 6:45am to ensure you can get checked in with John and PJ.
Carry at least a 20 oz. water bottle, it may be hot on your way back and you should have water with you!! We also recommend a hat, sunglasses, sunscreen, post-run change of clothes, a good attitude and a large Smile 🙂
Our event will share the trail with all local and visiting tourists, and there is a concurrent event for bicyclists who will be starting at 8:00am from Camp Eardman and riding to the Yokahama Bay area on the same trail system we use. Please be courteous to others out on the trail.
Our event is an Independence Day (4th of July) themed event, and we encourage you to wear festive attire!!! This is also a "Pot Luck" style affair, so please bring something to share…..
We recommend you check the weather the night before and plan accordingly……. We have had some very hot days with vog recently, so a change of clothes and some slippers may help you relax and enjoy the post-run gathering.
There will be a small aid station on the Yokahama side, mostly to top-off your handheld water bottle and maybe a small snack……there will be numerous Course Marshalls and other volunteers, please thank them and be nice to each other out on the trail.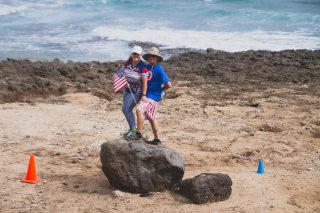 We hope you have a GREAT time and enjoy this unique corner of our Island!!
Aloha,
Arvel and Benita